The Across Health Maturometer is back for its decennial edition!
News
It is now 10 years since we first began evaluating the digital maturity of the life sciences – and as an industry, we have come a long way…. But we are certainly not 'there' yet!
This year, we will be digging deep into the archives to find out:
Which were the most hoped-for digital trends, which have failed to deliver
Which channels have momentum for break out in the next years
How the notion of 'the customer' has changed
As well as the always interesting:
What is the digital spend projection for this year
How are digital teams structured around the world
What are the main bottlenecks for implementing digital within the organization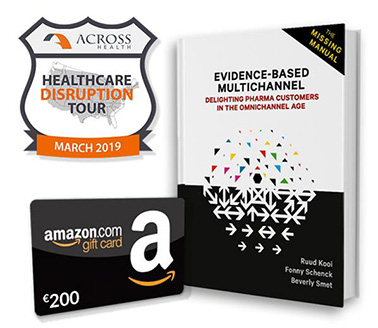 To thank you for your time – and celebrate our 10th anniversary, we have come up with an attractive set of prizes:
1 participant will join our annual Healthcare Disruption Tour in San Francisco (March 2019) (ex hotel & flight)
9 participants will be selected to receive an Amazon voucher worth 200 EUR
Every 20th participant will receive a copy of our best-selling book on "Evidence based Multichannel" in its brand new 2018 edition
All participants will receive the FULL set of analyses (we publicly share a limited selection of the insights)
It takes about ten minutes to complete, and is only accessible to life science staff!
Thanks in advance,
Fonny Schenck
CEO, Across Health
---
Previous
Next