2022 Global Trends Report
News
---

As the communication preferences of HCPs and other important stakeholders continue to evolve, the life science industry is being forced to think about more creative and engaging ways to connect and partner with their key customer audiences. So, what insights and trends are crucial to be able to inform (and subsequently excel at) omnichannel customer engagement in 2023 and beyond?
Welcome to the first Across Health Global Trends report, a free annual publication in which we aim to share some of 2022's most interesting insights and trends pulled from our industry-leading Navigator365™ and Maturometer™ research. Simply tap the button below and complete a short form in order to access your free copy of the report.
Get unmissable global and regional insights (EU5, US, LATAM and APAC) on a range of topics, including:
HCP engagement and preferences
Industry performance and digital maturity
Latest metrics on the most popular channels (digital and traditional F2F)
Omnichannel launch trends
Benchmarking analyses
Payer highlights
To give you an idea of what the trends report offers, we are pleased to provide you with two highlights below.
Want to dive into the full report immediately? Tap here to fill out a short form and easily download the full report…
HCP SATISFACTION WITH BIOPHARMA'S DIGITAL OFFERINGS IS SLOWLY INCREASING, BUT OVER HALF OF SPECIALISTS REMAIN DISSATISFIED OR NEUTRAL
Taking specialists in the US as an example, we see a strong pandemic-related increase in satisfaction in 2020, followed by a much smaller increase in the years after; at the same time, however, over half of HCPs remain dissatisfied or neutral with biopharma's digital efforts. Combined with the fact that the proportion of HCPs describing themselves as "very satisfied" has remained very small, this shows there is still significant room for improvement.
Interested to know if the trend is similar for other regions?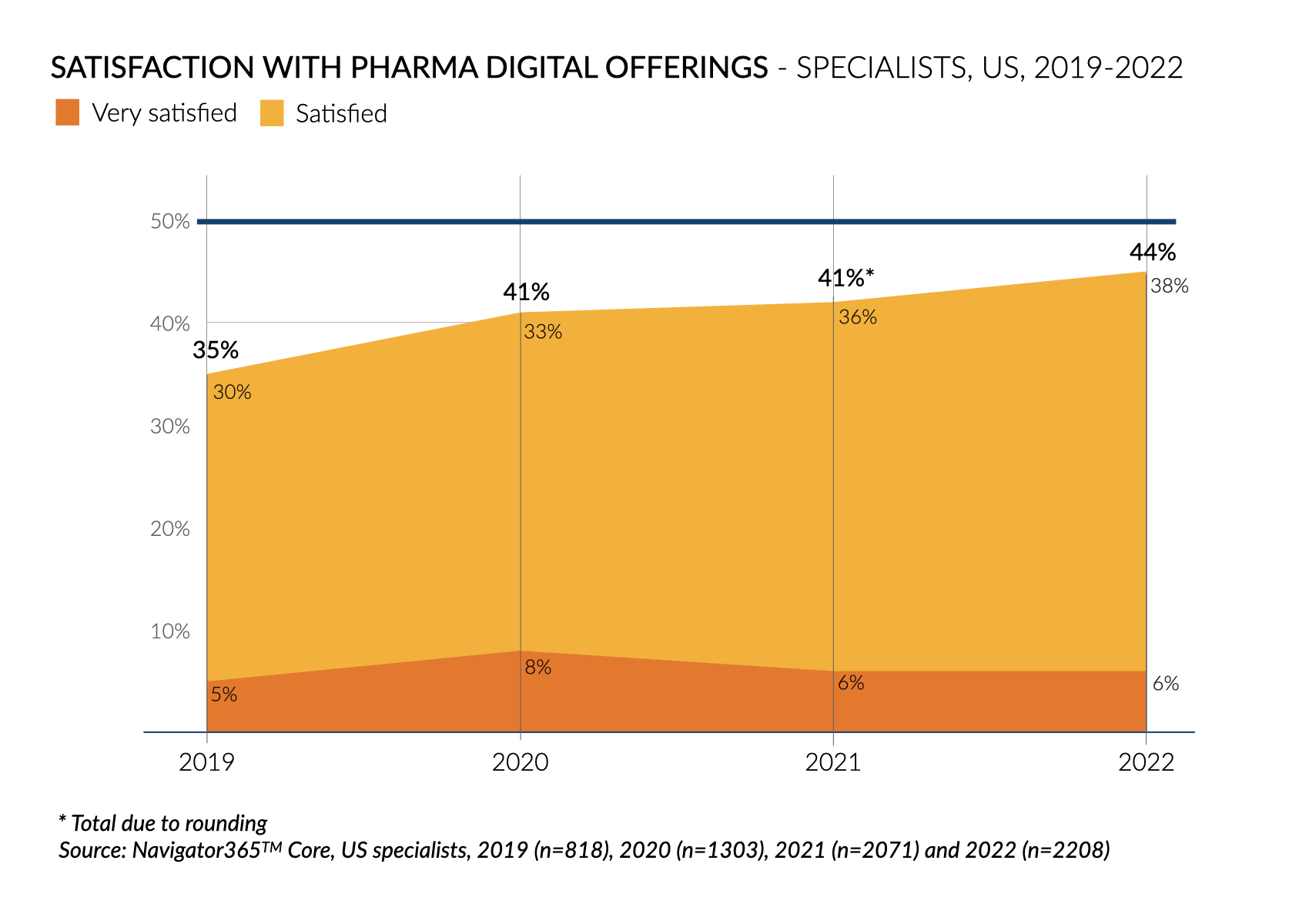 WHAT DRIVES AN OPTIMAL CUSTOMER EXPERIENCE?
When it comes to Cx drivers related to biopharma engagement, specialists of all stripes rate 'fast response/ feedback' as the most important dimension across all regions, followed by 'knowledgeable staff'. 'Knows my professional interests' also scores well, indicating that personalization has a role to play, while of the omnichannel criteria, 'knows and respects my channel preference' is regarded as important, particularly among European specialists.
Interested to find out how these and other Cx drivers are being ranked for the different regions?