There has never been a more challenging time for product launches in the biopharmaceutical industry.
While the number of FDA approved drugs is on the increase – culminating in an all-time high of 59 approvals in 2018 - the industry returns on R&D investments declined by almost 30% between 2008 and 2018.

In addition, there is an urgent need to refresh revenues with successful launches, as branded drugs worth more than $200 billion in sales will see their patents expire over the next coming years.
Given the time and expense required to bring a prescription drug to market, coupled with its limited exclusive lifespan and an increasing complex and competitive healthcare environment, companies must maximize every moment during the critical launch window.
The impact of the unique window of opportunity for launch products has been quantified by Evaluatepharma & Mckinsey: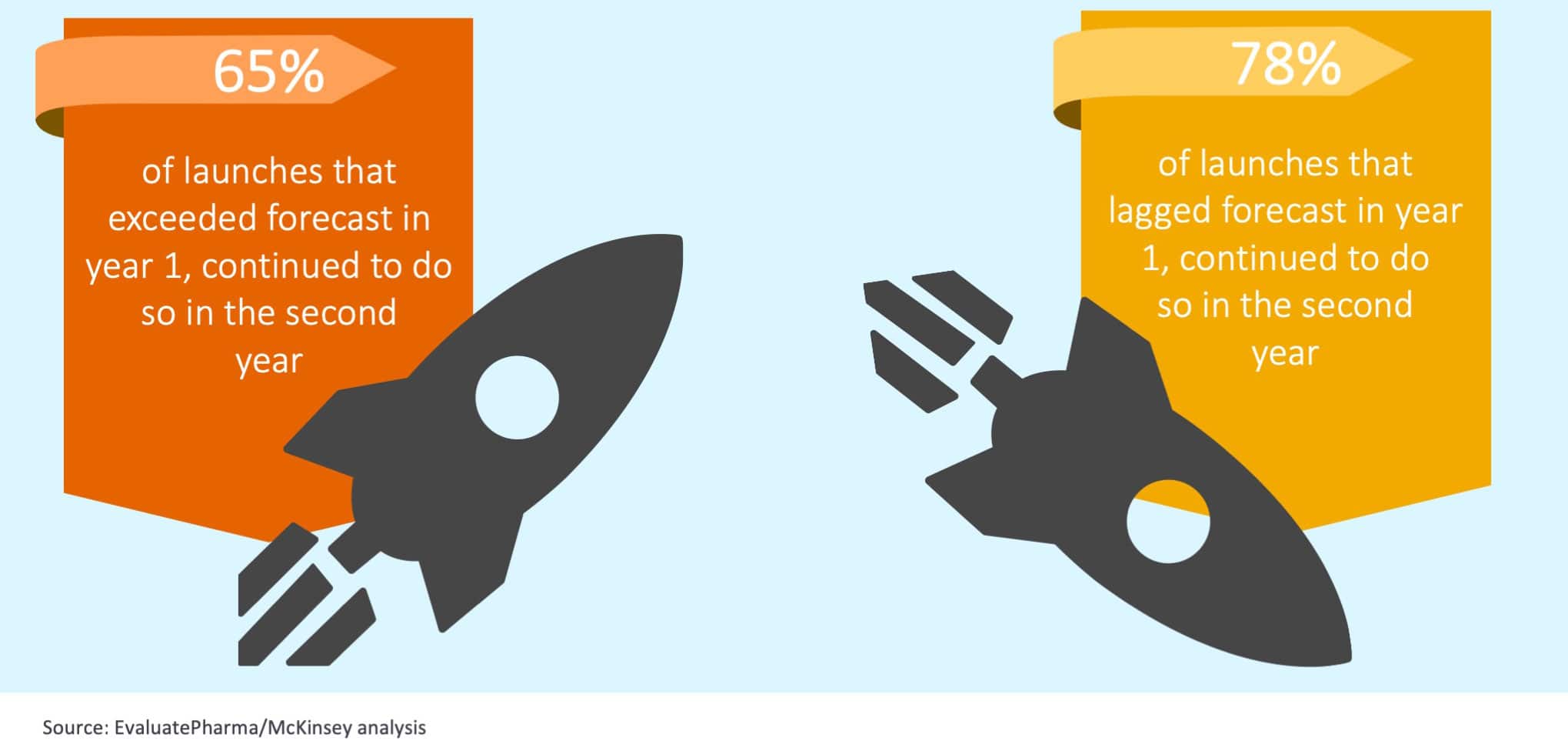 Omnichannel as a way to boost launch returns
IQVIA has demonstrated that top launches have a consistently higher share of digital promo volume and a richer mix of digital channels (IQVIA analysis of 755 launches during 2012-2017):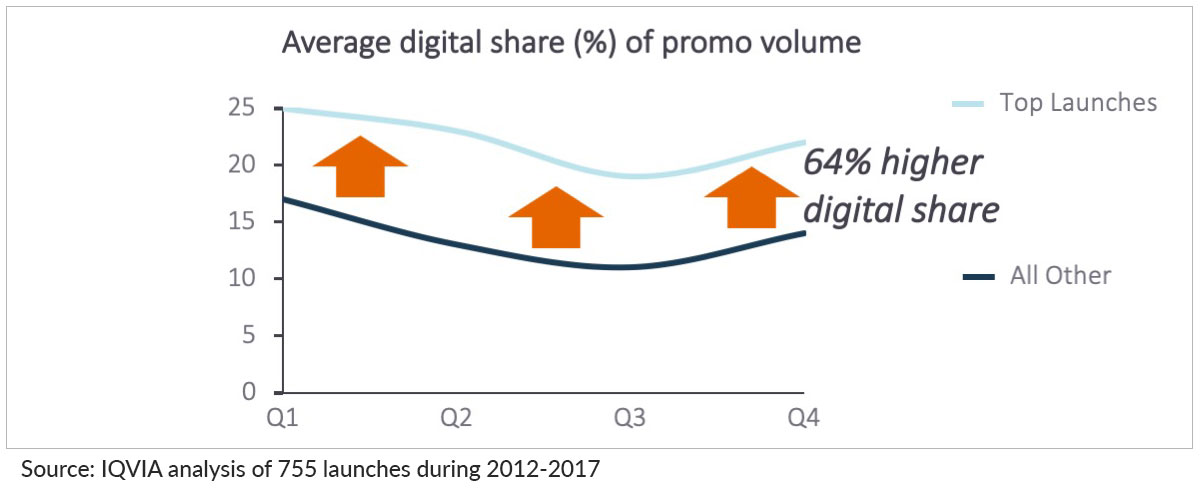 Indeed, in an era when digital has become the New Normal, the unique opportunity of digital should be leveraged to the fullest extent, and omnichannel can definitely help address the following business questions:
How can new launches be optimally supported while still ensuring sufficient resourcing for growth brands, in a market where overall SG&A is capped/squeezed?
How can launch budgets be optimally allocated in a multiple-launch scenario?
How can new indications be launched optimally?
How can we ensure to reach hard-to-see prescribers with a relevant enough frequency to cut through the noise but without spamming them?
In short: are there smarter ways than simply relying on the traditional transactional commercial model to capitalize on such a once-in-a-lifetime opportunity?
No surprise then, that pharma companies are increasingly seeing digital as a key component to address the above questions. Indeed, our 2019 Maturometer results show that 86% of respondents involved in multichannel launches in the past 18 months find the digital component important to very important (scores of 5-7 on a scale of 0-7; n = 134).
How can digital boost launch success?
The opportunities for adding digital to the launch mix at scale are manifold, and should be prioritized based on the market situation and company maturity. They include:
Improve customer access, experience & engagement by aligning with their channel affinity and delivery of high relevant content in the right context
Improve the impact of "offline" efforts (scientific events, congresses, detailing, MSL activities etc.) through integrated digital components along the customer engagement journey
Reduce "time to critical frequency" during the most important 6-12 month launch window by overlaying offline efforts with a powerful, seamlessly integrated digital boost campaign
Reach more physicians, including referrers
Distribute in-field resources more evenly across launches (resource optimization)
Gather customer insights from each touchpoint of the customer journey for continuous launch campaign optimization and targeting
Improve patient care & differentiated services through digital solutions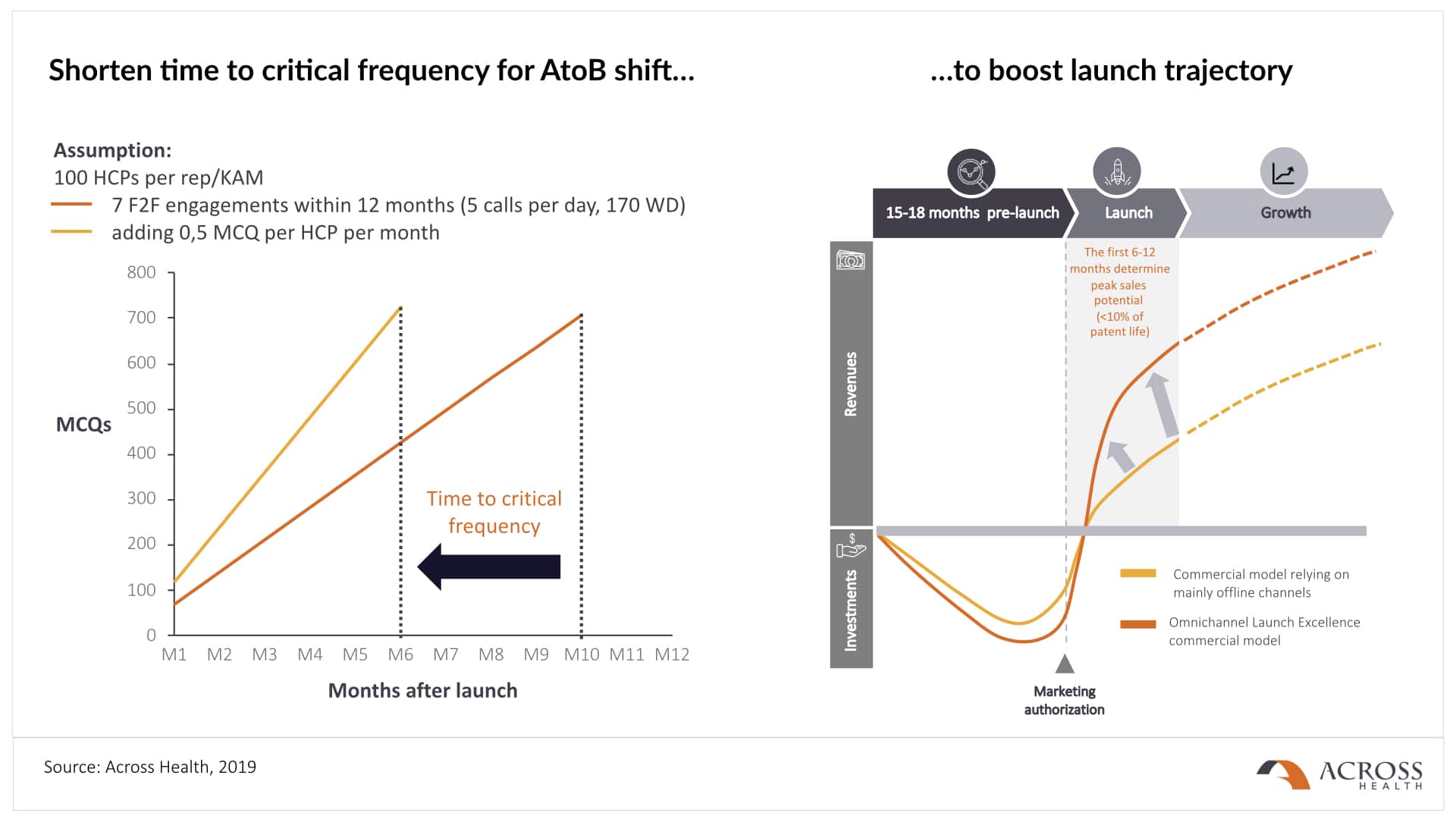 However, the current level of satisfaction with the digital component in an omnichannel launch is quite sobering: only 34% at the international level is satisfied with the impact (scores 5-7); at the local level, the score is 57% (with 40% giving only a 5 rating).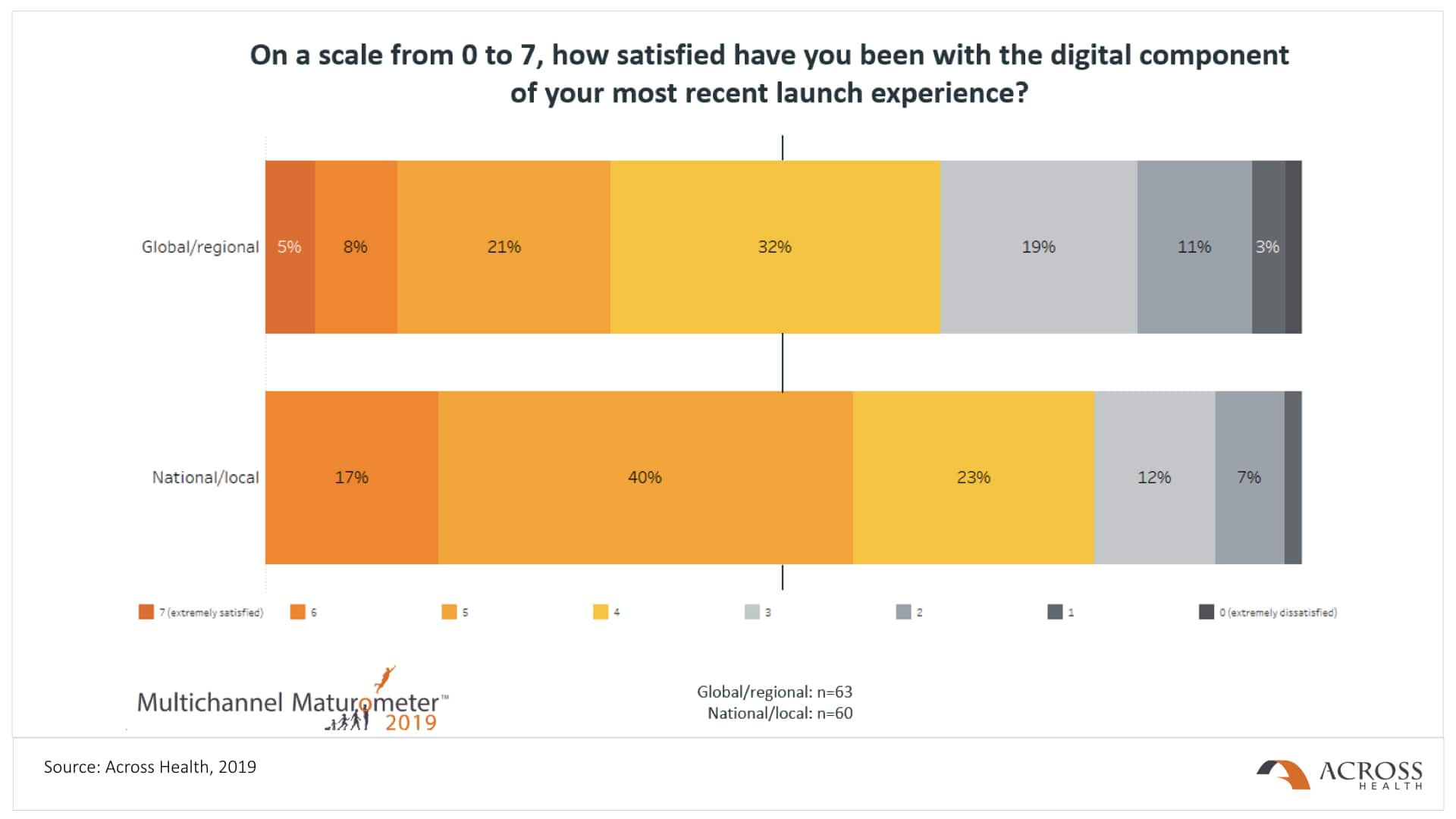 The challenge is clear: to succeed with product launches in an ever more complex and competitive environment, biopharmaceutical companies must arm themselves with a digitally enabled, best in class customer-centric commercial model - and walk the talk for flawless strategy execution (which needs to incorporate the whole organization).
The Across Health O.L.E. offering
Our Omnichannel Launch Excellence (O.L.E) framework is grounded on the vast omnichannel and life science experience of Across Health and leveraging our unrivalled data sets (e.g. Navigator 365, Maturometer) for an evidence-based Omnichannel Customer Engagement strategy that maximizes your product launch opportunity.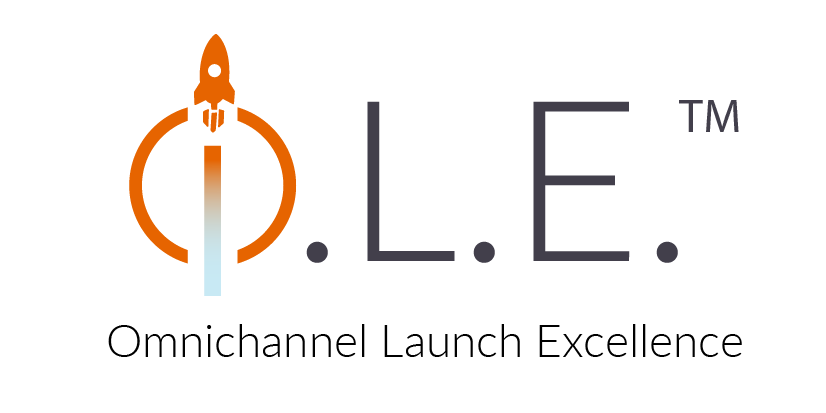 O.L.E will boost your omnichannel launch – whether you are a local launch leader or are overseeing a new launch at the international level, whether it's a rare disease with high unmet need or primary care product with low differentiated perceived value proposition, whether there is a lot of entrenched competitors or you are truly first to market,…
We have several options available, tailor-made to your digital ambition and organizational maturity, ranging from an above-market strategy through co-created plans and dedicated local launch optimization. We also provide execution coaching and/or resources, and measure impact, including annual benchmarking over time.
For further information, please contact us.