2K+ better-skilled people thanks to the eCademy platform open access
News
---
When COVID-19 lockdown started in March, we decided to offer our 15 Omnichannel Customer Engagement elearning modules for Life Sciences for free. Since then, 3,500 users have registered to our Excellerator platform to complete nearly 20,000 courses!
The infographic below helps to highlight some of the trends and users' behaviour:
19,911 completed courses
The top 3 modules are:
From Multichannel Ecosystem to Digital Strategy
Remote engagement
Email engagement
2,312 better-skilled people
12+ years of training time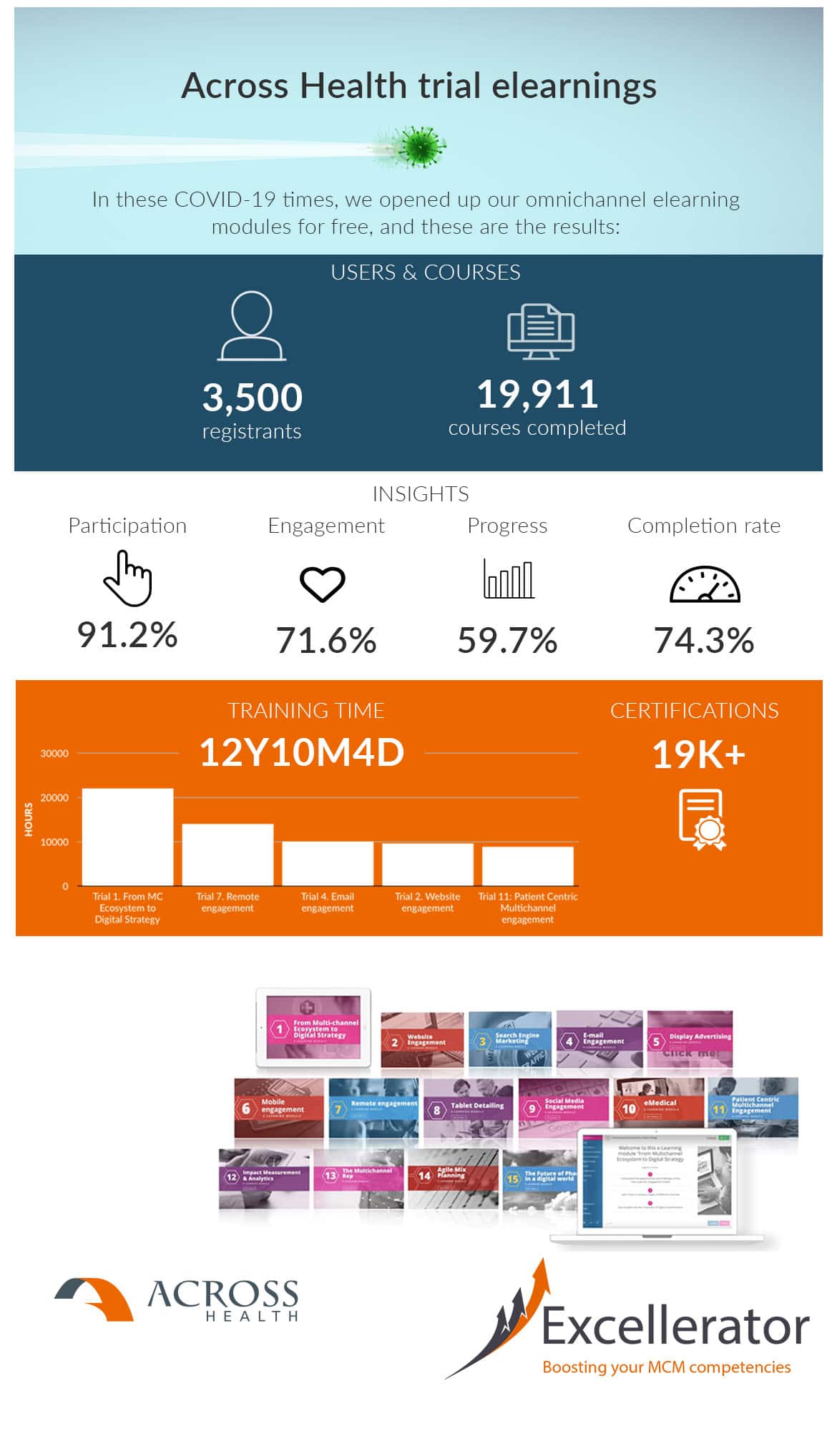 Our free trial has ended. If you want to further boost your omnichannel skill level for the next normal, stay tuned for our new kid on the block 'Scala365™', a highly interactive multidisciplinary capability-building platform for omnichannel engagement excellence in biopharma that will be released in summer 2020.
Want to know more about our unique digital capability offering? Please reach out to us!
---
What our users say about eCademy
"This training is interactive, diversified informative, and a MUST to complete for every pharma employee working in a commercial function."
T&D Manager, top 10 pharmaco
"To go into a digital future, it is essential that everybody speaks the same (digital) language and has the same basis to start off from – I am confident that we will achieve this with the Excellerator training (having done it myself)."
BU Head, top 10 pharmaco
"The training is an excellent start for our journey into omnichannel marketing. It covers a wide range of topics, is well structured and didactically well thought out."
Product Manager, leading biotech company
---
Previous
Next