---
Many pharma companies have been struggling to keep abreast of the possibilities presented by an increasingly VUCA (Volatile, Uncertain, Complex and Ambiguous) world, especially, how to adapt to new (i.e., digital) customer engagement expectations. Many are looking at the multichannel rep as a key solution. But how does this concept interact with the traditional commercial model?
While some companies are still exploring this space, others have already made the leap and implemented focused digital promotion programmes. The Across Health Navigator365™ database of over 22000 HCPs offers a unique, evidence-based view on these dynamics. Let's take the Spanish rheumatology market (Q4 2017, n = 75) as an example. We created two metrics – the Rep Score Index, and the Digital Score Index [see below for more details], and applied them to the data, resulting in the following chart: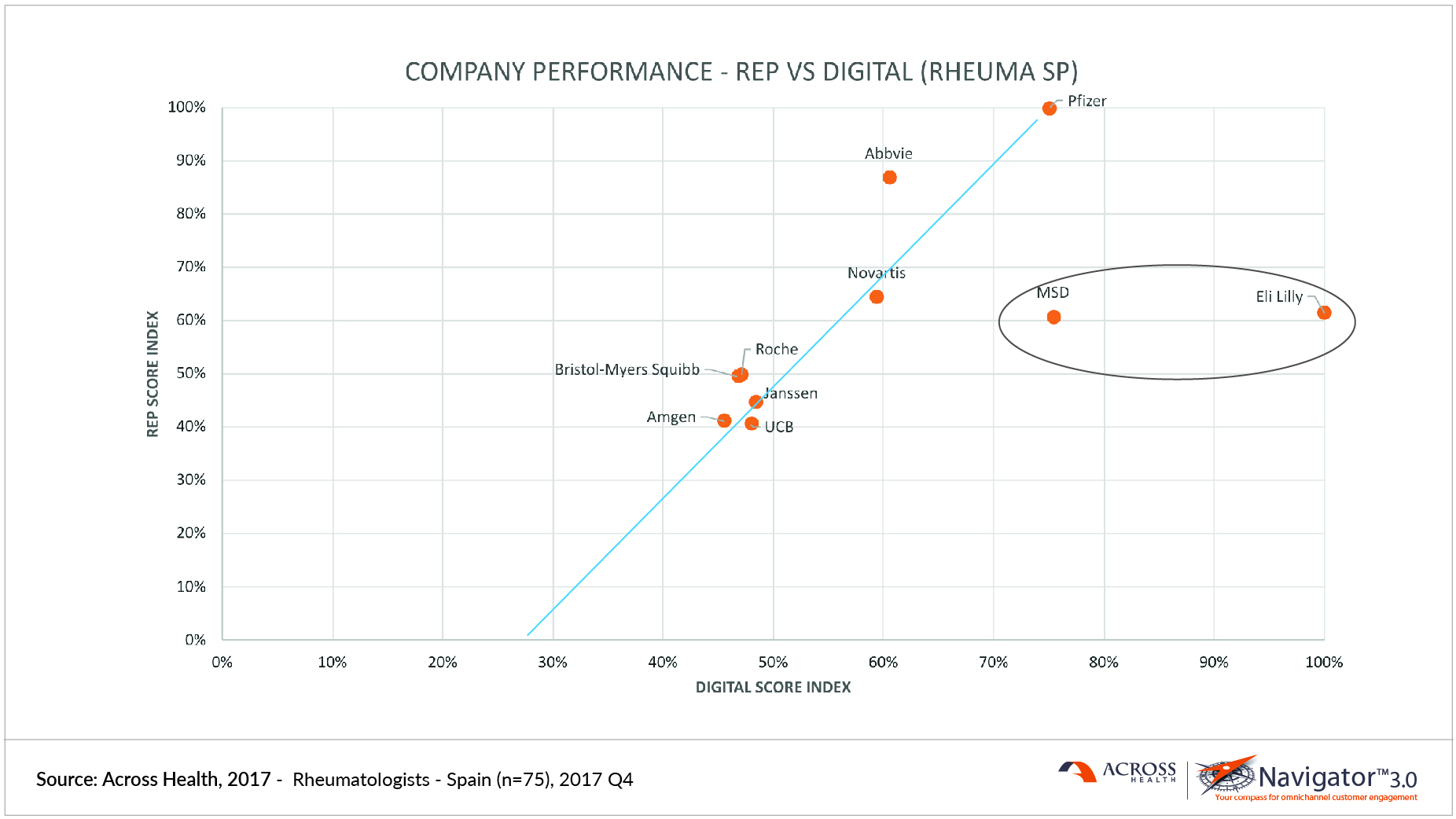 The digital score index
The digital score index illustrates the performance of multichannel reps based on four rep-related digital channels: tablet detailing, rep email, remote detailing and HCP self-service websites. The scores are averaged across the four channels and then weighted by the channels' reach and impact. Final scores are expressed as a percentage of the top score, which is rescaled to 100%.
The rep score index
The rep score index illustrates the performance of sales reps. The rep scores are weighted by the channel's reach and impact. Final scores are expressed as a percentage of the top score, which is rescaled to 100%.
There is a clear correlation between the two scores for most companies. This may be explained by the assumption that good reps intuitively know how best to utilise their digital toolset. Another is that multichannel tactics themselves are likely to increase the overall effectiveness of the rep. The chicken and the egg question…
However, there are two clear outliers: MSD and Eli Lilly, which are even more interesting to take a better look at. Both companies outperform digitally, showing that even with average rep scores, it is possible to shine in the MC rep space. These companies then (at least in this TA and this country) have done an excellent job in raising the digital bar for their reps and creating the right incentives, tools and training. This should yield strong efficiency and effectiveness gains.
And yet, the similarity belies different strategies. MSD's key product was Remicade, which lost patent protection at the end of 2015 in Europe. One may infer that they deliberately shifted all-out to a lower-cost multichannel support model. At the other end of the PLC, there's Lilly's Olumiant, which at the end of 2017 (when this data was generated) was in the pre-launch phase; here the strategy may well have been to go for "launch augmentation", with a strong reach & frequency boost through digital rep channels.
These trends can lead to other questions for the first, "highly correlated" group. Indeed, should they not be shifting more towards the right and possibly even reducing the cost-to-serve, while increasing customer engagement? This could certainly be a viable option for a small player like UCB, which may gain market share without adding to cost. But also for the other companies, there are several go-to-market shifts possible.
In conclusion, if, like many companies, you (plan to) spend significant amounts in the digital space, and want to see whether these efforts translate into customer impact, want to find out what your competition is up to, and/or want to track how you can advance faster in transforming your omnichannel engagement strategies, then benchmarking is the way forward. Our Navigator365™ database offers the ultimate treasure trove for these and other benchmark analyses (at the channel level, for Sales, Medical, and Marketing, within or across TAs and countries, ..).
Further reading:
Want to know more about Navigator365™ or our full range of benchmarking options? Please click the button below or contact us.
Visit our Navigator365™ offering
---
Previous
Next