---
Our recent webinar on the 2016 Multichannel Maturometer zoomed in on the 2-speed digital adoption in pharma. Although the industry in general is still in a low-level status quo (low skill set, low budgets, low satisfaction), some leaders are already well ahead of the pack, with higher adoption, budget and resource levels – and higher satisfaction. We witnessed a similar pattern in our 2015 data set (see the detailed analysis in our blog post).
For this blog, we decided to dig deeper into real and perceived differences between functions (managers vs directors/VPs). Do we see a similar 2-speed trend there?
Digital Maturity
Generally speaking, differences between senior staff (white line), managers (yellow) and the European average (red) are limited. Senior staff tends to score lower than the other 2 groups on most counts, although they have a much more positive view about digital vision & strategy. On the other hand, they are clearly more negative than the manager group regarding the more operational levels of MCM – particularly in the area of campaign automation, HCP digital channel acceptance, and measurement (and training). Looks like they may not be fully up to speed about what's happening "where the rubber hits the road" – and/or that the typical owners of these areas (manager level) are more positive about their own achievements than reality warrants.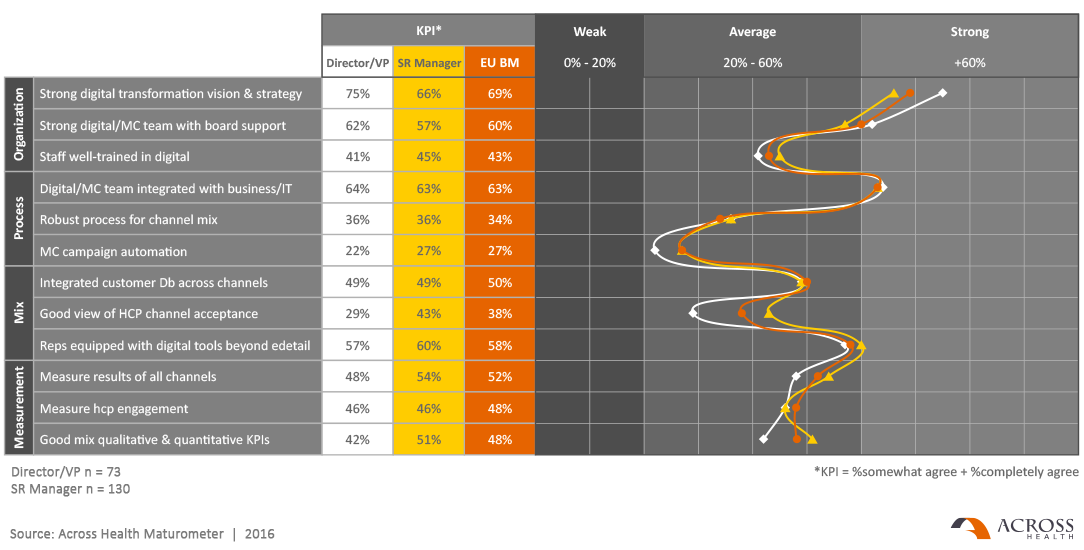 The same trend can be seen in the table below: senior levels find both local and international digital teams much less effective than managers, and are also more disappointed about the speed of change. The fact that they score "not enough knowledge" as the top hurdle is also in line with this.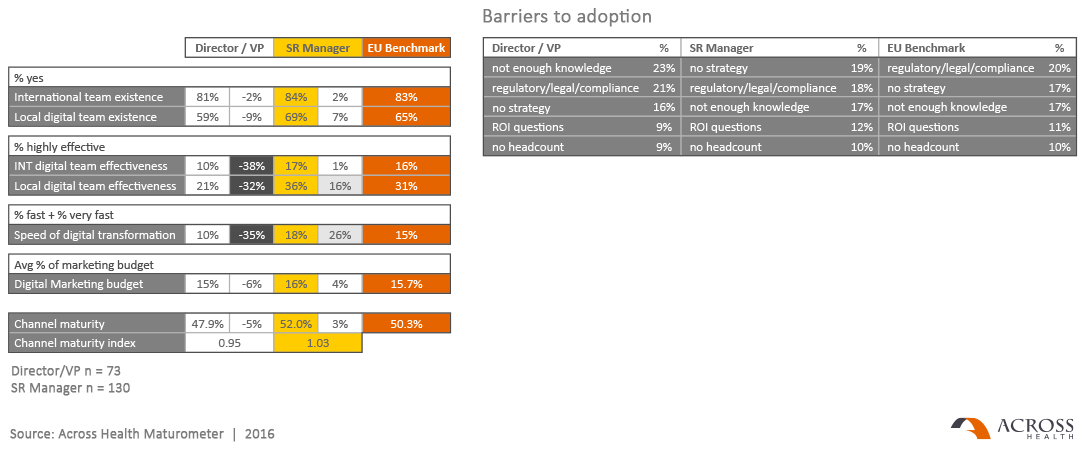 Future trends
Finally, if we look at the future trends, we can observe that senior leaders tend to find most potential future trends more important, and also have a slightly different view in terms of priorities: the move towards the multichannel rep, the need to upskill the organization and the move towards patient-centricity score significantly higher, and the same can be said about the emerging trend of mhealth & healthcare disruption.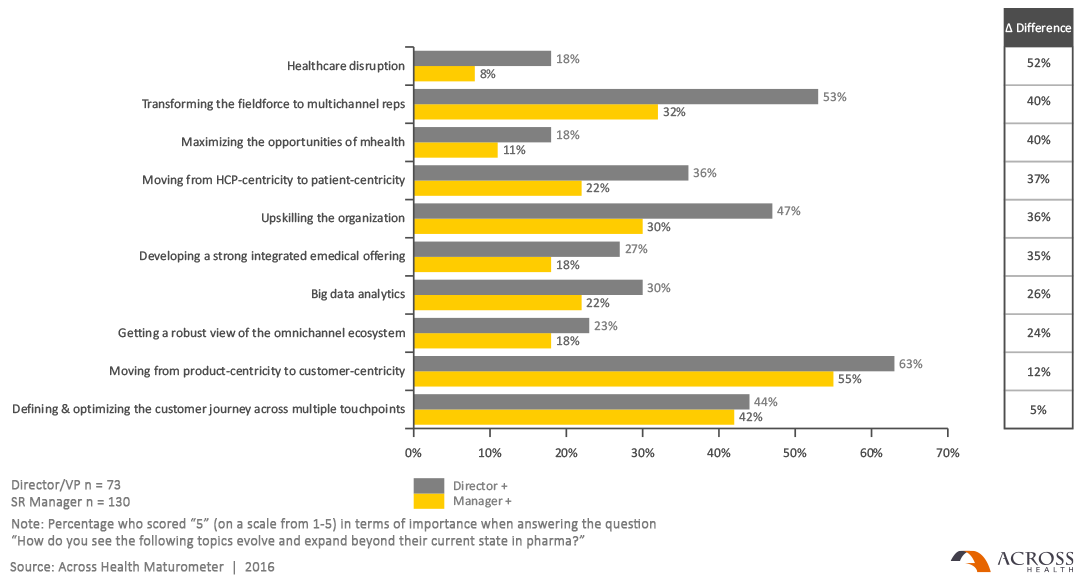 Summary
In summary then, it looks like senior staff is less aware/convinced of the progress made by their operational colleagues, while the latter group is less aware/convinced of the quality of the strategy put in place by the senior group. In addition, senior staff has different views about the priorities going forward.
There is a clear need for more alignment and communications (and challenge sessions!) between the 2 levels to ensure a company-wide, robust effort regarding digital transformation.
For more information, please contact us.
---
Previous
Next