---
In 2013, Across Health collected channel data for over 2600 HCPs, distributed over a number of specialties and geographies (mainly EU). Key metrics cover 'Reach' – the extent to which channels are commonly encountered by HCPs, and 'Impact' – the extent to which channels influence prescribing behavior; profiling data includes potential, age, gender, attitudinal components and many other dimensions. All results are consolidated in a searchable database.
Pharmaceutical marketers are increasingly focused on developing cross-channel campaigns to obtain maximum effect. Their main segmentation dimensions continue to be prescribing potential and Rx share – just like in the "old normal". However, additional criteria may be used to get closer to the "right message, right customer, right time" ideal.
In this article, we will explore whether gender and age have a major effect on channel utilization and impact. The key numbers are represented in a tabular heat map. As an example: if the average reach of a channel is 1.00, and female HCPs would report an impact of 1.01, versus 0.99 for male HCPs, then gender bias would amount to a mere 1% above and below the average.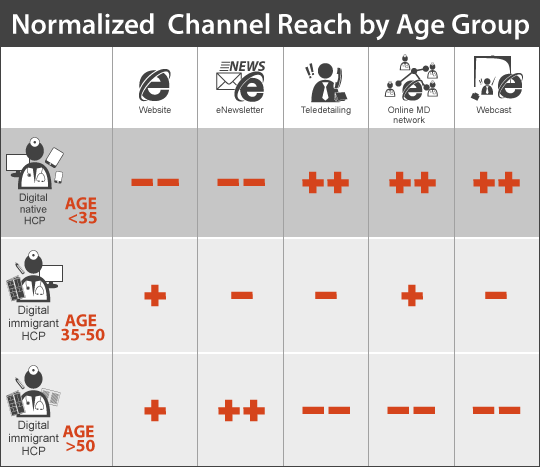 First, we looked at Reach: in terms of gender bias, there seems to be a discrete trend towards female HCPs being more exposed to (or receptive to) communication in general. When it comes to age, there is a clear inverse correlation, especially for teledetailing, webcasts and online MD networks; strikingly however, websites and eNewsletters go against the flow and are less popular among digital natives.

We also looked at Impact: in terms of 'old normal' channels, there was hardly any difference between gender and age groups, although younger HCPs generally deemed the sales rep less impactful than their older peers. Digital channels, however, showed a more heterogeneous picture: overall, the 35-50 age group was most prone to evaluate eChannels as being more impactful.

Conclusion
Gender seems to be a minor factor, with female HCPs trending towards a higher channel utilization overall. On the other hand, a clear age-driven bias exists. Some of the results are as expected, i.e., the lower eChannel acceptation in the >50 age group will be due to a lack of digital maturity… but what about the paradoxical results in the <35 group? Among 'digital natives', eChannel utilization is high overall, but eNewsletters and websites score remarkably lower; moreover, pharma eChannel impact is generally lukewarm in this segment. This confirms that younger 'digital natives' are more open to eChannels than their peers, but they seem to have become skeptical of - or bored by - the content offered, and this seems especially true for websites and eNewsletters, the most commonly offered emarketing channels by pharma. This should be a red flag for those engaging with HCP audiences: their efforts will increasingly require creativity and innovation to keep attracting digital native HCPs. And as 2014 is the year in which digital native HCPs will outnumber their immigrant colleagues for the first time in history, this is not a finding to be ignored …
---
Previous
Next