---
Since 2008, Across Health has systematically collected channel data by HCPs on over 50 offline and digital channels - across many markets and therapy areas. The datasets from 2011 onwards have been entered in a unique channel database. To illustrate the robustness of the database: in 2013-14, Across Health collected channel data for over 3250 HCPs. Key metrics cover 'Reach' – the extent to which channels are commonly encountered by HCPs, and 'Impact' – the extent to which channels influence prescribing behavior; profiling data includes potential, age, gender, attitudinal components and many other dimensions.
We recently finalized our cross-channel Navigator for Oncology & Hematology (9 markets, 655 respondents). For this article, we decided to have a look at the evolution of reach and impact for a number of common traditional and digital channels vs 2011, the earliest dataset in our database.
The overall finding is that most traditional channels reach fewer physicians than before (rep, international conference), local meetings being the exception. None of the 3 managed to increase their impact – conferences & meetings saw a declining impact, while the rep managed the status-quo.
For online, the situation is very different. The reach of all pharma-owned channels (iPad detailing, smartphone apps, teledetailing, webcasts, and websites) increases vs 2011. And almost all online pharma channels have improved their impact in these 4 years, except for tablet detailing (limited innovation beyond the device) and webcasts (limited innovation in formats?). In fact, oncologists seem to say that the impact of some online channels is now the same as or even higher than that of the rep.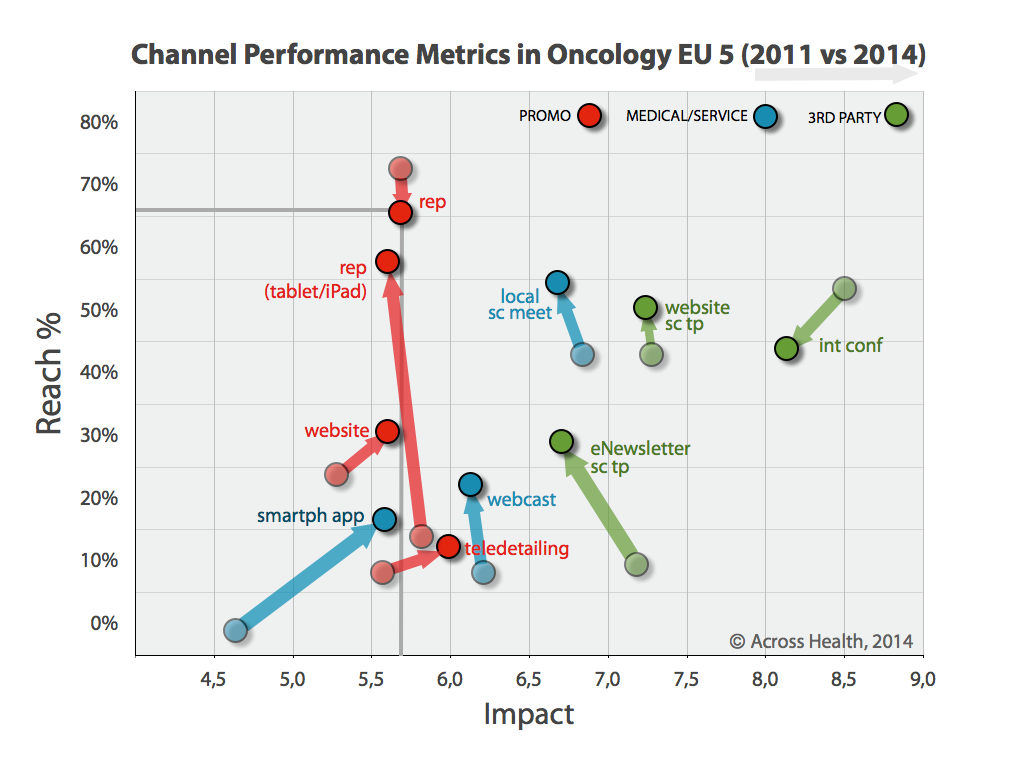 Interestingly also, third-party online offerings seem to be losing impact vs 2011 (while reach increases). This may be partly due to the quality increase of the online pharma offerings, but other elements may play a role too.
If we look at the overall picture, these trends confirm the hypothesis that traditional channels do not necessarily disappear with the arrival of new ones, but they gain a new meaning. Indeed, international meetings and reps are losing reach, with local meetings & webcasts compensating for the decline in conferences, and pharma websites and (and teledetailing to a lesser extent) for the loss of rep reach. The need for a new channel mix & integrated multichannel communications – or "fusion" as we call it at Across Health – is therefore obvious.
Conclusion
The tipping point for online pharma channels appears to have been reached for European oncologists, and, as increasingly superior content is channeled through them, digital will continue to take center stage. Any oncology company can increase its share of voice and customer preference by actively leveraging these novel channels in a cross-channel approach. The next question of course is: (how long) will this trend continue? How far will the influx of digital native HCPs boost this evolution? And what is the ultimate position of online pharma offerings in terms of reach & impact in The New Normal, when digital has become a commodity? What will be the position of the rep, conferences and medical meetings? At any rate, very interesting times are ahead for sales and marketing leaders, digital experts, resource planners etc…
Note: for more information on our Oncology Navigator and our channel database, please contact us.
---
Previous
Next