---
Last year, we had a look at the evolution of channel performance in the EU5 Oncology market using our 2014 cross-channel Navigator1 for Oncology & Hematology. In this article, with the latest data from our 2015 cross-channel Navigator for Oncology US (n=80), we look at how channels are evolving in the US in terms of reach and impact by comparing our most recent data (Q4 2015) and our earliest data from 2011.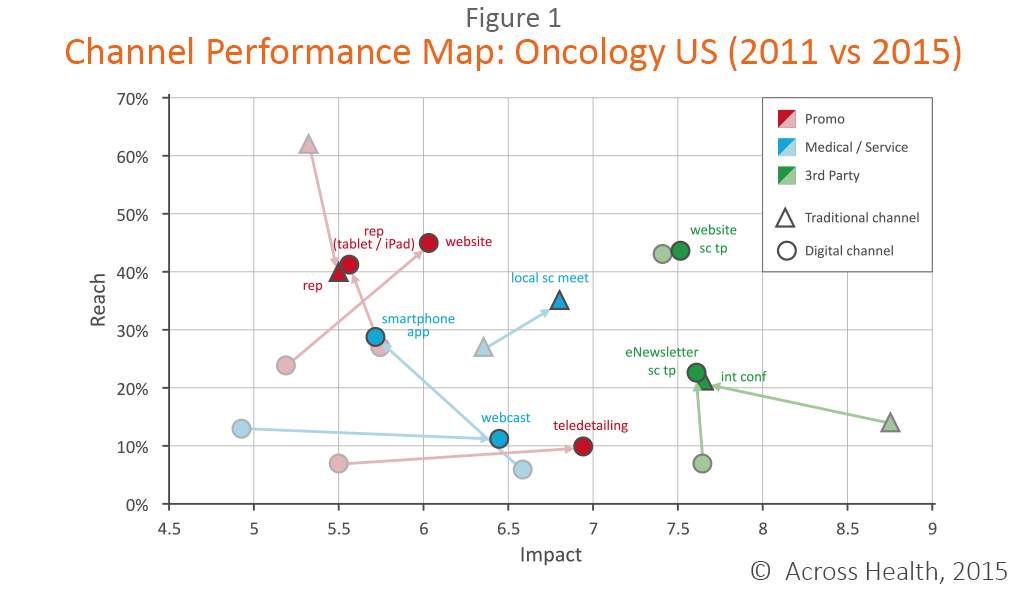 Positive growth for most pharma-owned channels
In the US Oncology market, most pharma-owned channels (both digital and traditional) have a positive growth in impact between 2011 and 2015, with the exception of tablet detailing and smartphone apps. In terms of reach, most pharma channels again saw a strong increase - except for webcasts (decline) and tele-detailing (marginal growth). Similar to indications from other research, the rep is markedly on the decline. In the US oncology market, the regular rep seems to be losing exposure to the digitally-enabled rep as well as to websites. In fact, websites have now become the top-reach pharma channel in this market.
More reach, less impact for third-party channels
Third-party eNewsletters and websites have maintained status quo in terms of impact, while international congresses saw a decline. The weakening impact of international congresses could be due to the stronger impact of online "surrogates" (such as congress twitter feeds, online congresses, etc...), the more time-efficient local scientific meetings and possibly, to a certain degree, some implications from the Sunshine Act. And "365/365 digital congresses" could be the driver for the increased reach of these international congresses.
In summary, the rep is no longer the top-reach pharma channel in the US oncology market. Digital pharma channels gain in reach and impact, and third-party channels gain in reach while their impact is at best stable. Finding the right mix for each physician, while taking into account the larger overall trends, will be key to gaining and maintaining customer engagement and competitive advantage.
Are these trends observable in other markets and therapy areas?
The general trend of increased reach and weakened impact among third-party channels can be observed beyond the US oncology market. A similar analysis on the Spain GP market revealed that all three third-party channels (eNewsletters, websites and international congresses) have declined in impact but at the same time two of these channels have grown in reach. However, we can observe differences on the individual channel level and distinct dissimilarities in trends between the pharma channels of the two markets. Clearly, the fact that we are comparing GPs with specialists may also explain some of the differences.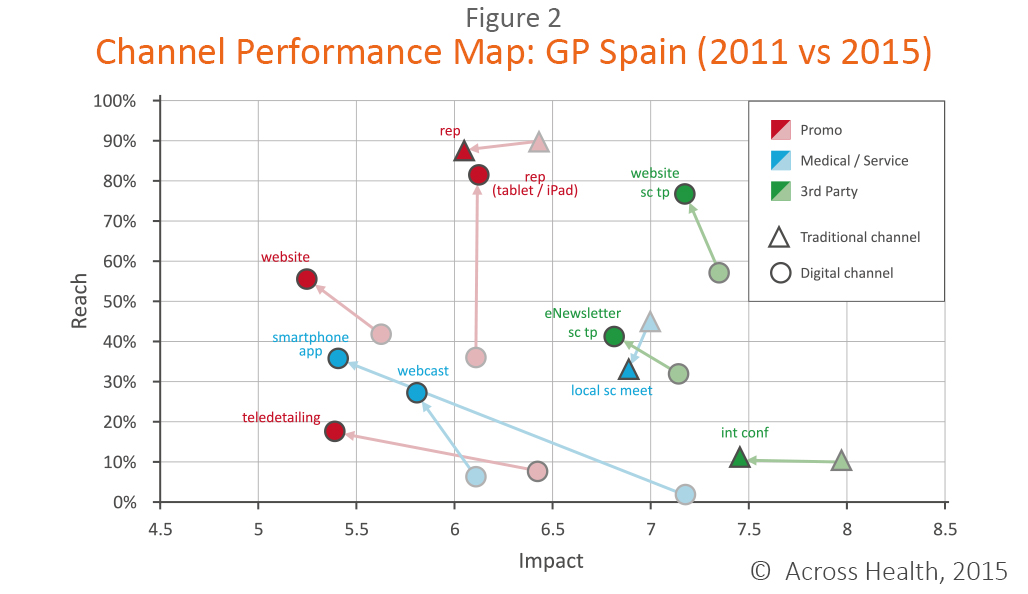 Want to learn more about trends for these and other channels and therapy areas in US and Europe? Contact us to learn more about our Q1 2016 release of the Oncology Navigator and our recent GP Navigator.
1 Since 2008, Across Health has systematically collected data on HCP channel usage for over 50 offline and digital channels - across many markets and therapy areas. The datasets from 2011 onwards have been entered in a unique channel database. To illustrate the robustness of the database: in 2013-15, Across Health collected channel data for over 6640 HCPs. Key metrics cover 'Reach' – the extent to which channels are commonly encountered by HCPs, and 'Impact' – the extent to which channels influence prescribing behavior. Profiling data includes age, gender, digital usage stats, preferences for digital versus offline or mix, digital satisfaction, attitudinal components and many other dimensions.
---
Previous
Next