---
Should you offer only digital channels to digerati HCPs and offline channels to F2F-oriented HCPs and relationship seekers?
Occasionally, we run analyses with our cross-channel Navigator1 and cross-reference them with our common-sense assumptions to see if they align, and if not, what new insights we can otherwise gather.
Our focus for this article is on healthcare practitioners (HCPs) with an expressed preference for face-to-face (F2F) interactions, who represent about half of our HCP sample (F2F: 45%; Digital/Mix: 47%; No interaction: 8% -- global 2015 Navigator database (n=6974)).
The basic assumptions about this group are :
they spend much less time on the Internet than the digital/mix group;
they find F2F channels much more influential vs digital channels; and
F2F-preferring HCPs are essentially relationship seekers.
1. Do F2F-preferring HCPs really spend much less time on the Internet?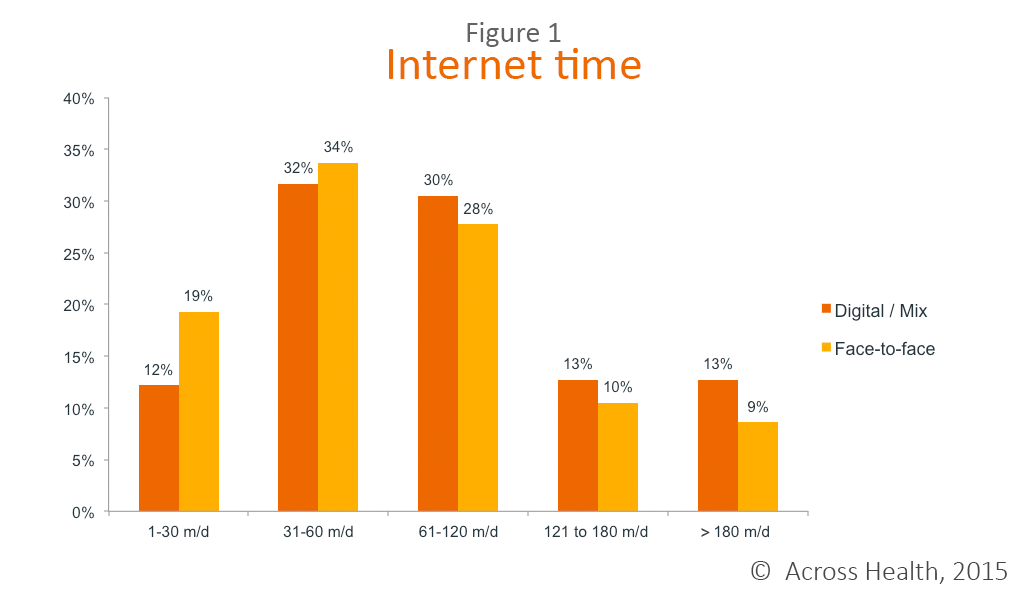 The largest differences in Internet time are observed in the two most extreme categories: "30 minutes and less" and "more than three hours". We see that, as opposed to our intuition, the majority of F2F-preferring HCPs actually spend the same amount of time on the Internet i.e. between 30 minutes and two hours per day.
2. Do F2F channels have a much higher impact on F2F-preferring HCPs?
We also wanted to find out if F2F channels have a much higher impact on the prescription behavior of F2F-preferring HCPs vs digital channels. We compared two pairs of key pharma channels: two promotional channels: reps (F2F) vs websites (digital), and two medical channels: local meetings (F2F) and webcasts (digital).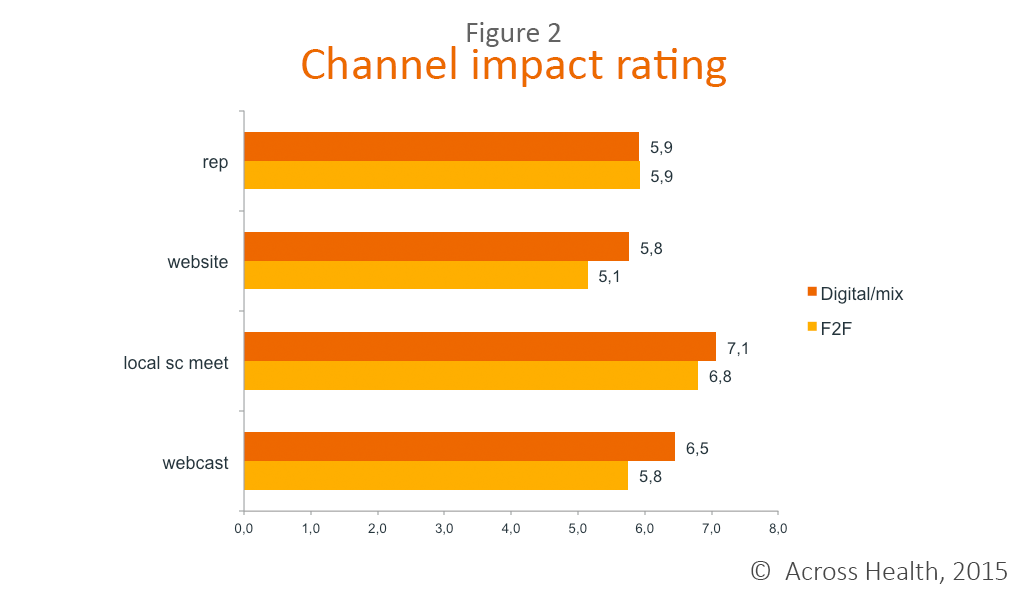 Our analysis reveals that offline channels are valued similarly by F2F-preferring and digital/mix-oriented HCPs. In addition, the former group does value online pharma channels lower than the digital/mix group – the difference is around 15% for websites and 18% for webcasts. So, this hypothesis is confirmed – but only marginally: a difference of 15-18% implies that digital channels still have a strong impact – and conversely, that the digital/mix group values offline contacts as much as the F2F subset….clearly another illustration of the "omnichannel" principle: all channels play a role…it is not an either/or question.
3. Are F2F-preferring HCPs relationship seekers?
Our cross-channel Navigator includes an attitudinal HCP segmentation based on a Mckinsey analysis: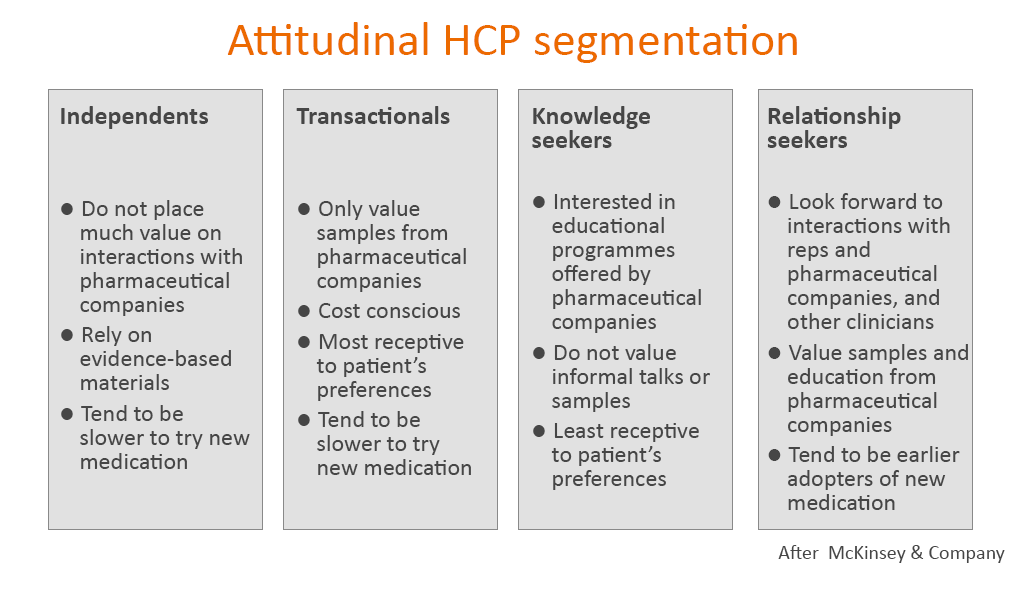 Based on their preference for personal interactions, we can assume that relationship seekers have a similar profile to F2F-preferring HCPs.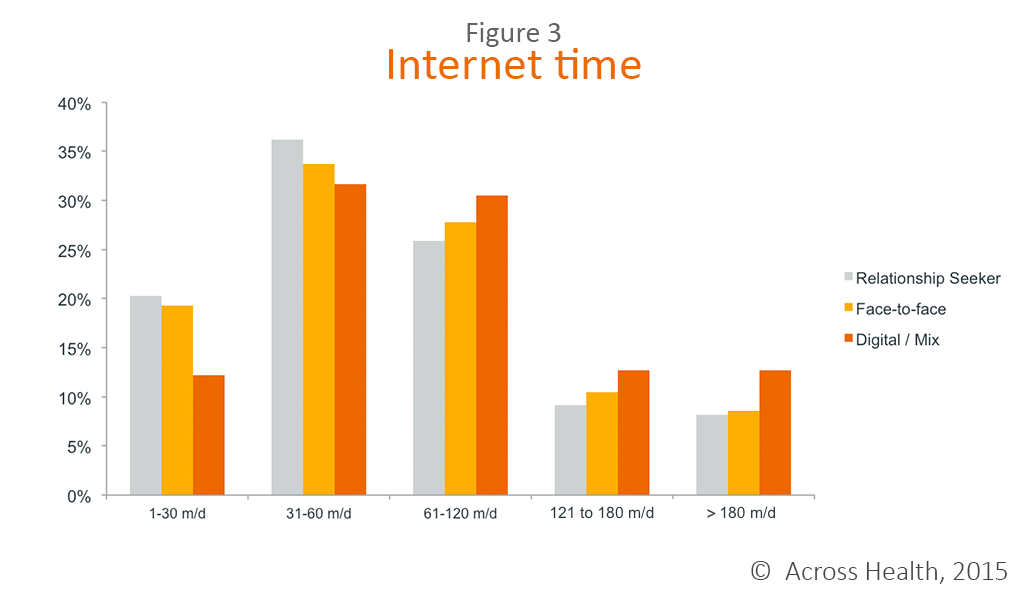 Our analysis confirms that relationship seekers are more similar to F2F-preferring HCPs than to the digital/mix group. In addition, relationship seekers exhibit a starker contrast with digital/mix-preferring HCPs in Internet time spend. We can conclude that while the relationship seeker segment is similar to the F2F-preferring segment in terms of Internet time spend, they actually spend less time on the Internet than F2F-preferring HCPs.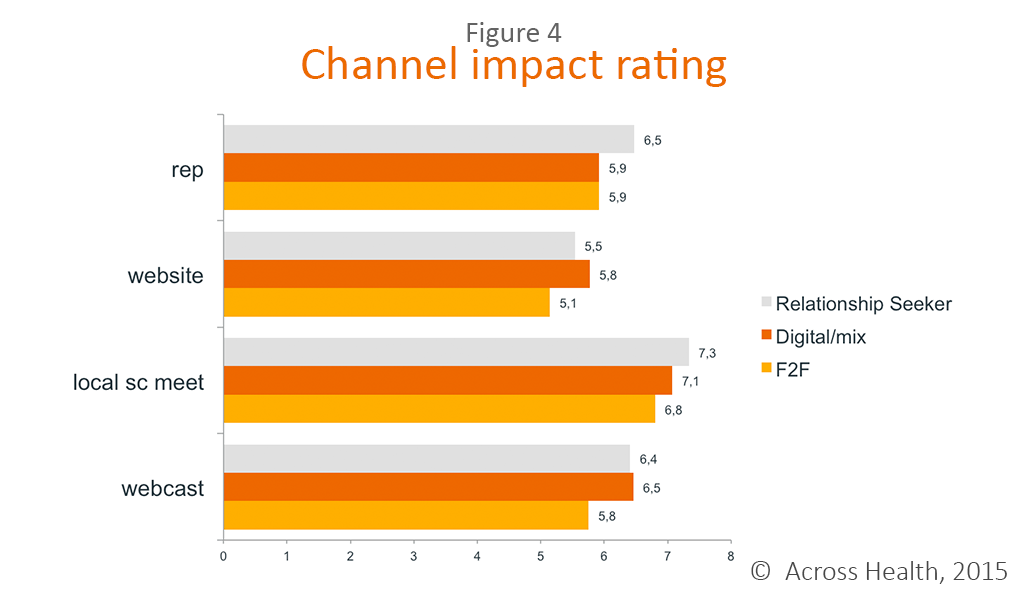 We also examined how much impact they give to F2F channels vs digital channels. Unsurprisingly, relationship seekers attribute the highest impact to F2F channels – even more so than the F2F-preferring segment. However, they also rate digital channels higher than the F2F-preferring segment. This finding is similar to another recent analysis, in which we discovered that relationship seekers are most likely to engage in remote detailing. Therefore, relationship seekers may not be focusing so much on "in-person" interactions, but rather are open to ANY type of pharma communications – offline AND online.
Conclusion
Overall, we see "50 shades of grey" in terms of channel affinity & use across the HCP community, confirming our belief that this is not a binary world, and several channels need to be integrated in a consistent and meaningful way to get your message across to the different segments of physicians. Developing individual channel affinity profiles, powered by personalized cross-channel campaigns and relentless impact measurement will be critical success factors in optimizing the channel mix.
If you would like to learn more about this topic, please contact contact us.
1 Since 2008, Across Health has systematically collected data on HCP channel usage for over 50 offline and digital channels - across many markets and therapy areas. The datasets from 2011 onwards have been entered in a unique channel database. To illustrate the robustness of the database: in 2013-15, Across Health collected channel data for over 6640 HCPs. Key metrics cover 'Reach' – the extent to which channels are commonly encountered by HCPs, and 'Impact' – the extent to which channels influence prescribing behavior. Profiling data includes age, gender, digital usage stats, preferences for digital versus offline or mix, digital satisfaction, attitudinal components and many other dimensions.
---
Previous
Next