---
...but have similar problems with optimizing the channel mix as the rest of the industry
Our Maturometer 2015 has been out for a while (in fact, our 2016 edition is recruiting now). Now that the topic of digital is rising on corporate agendas, we would like to zoom in on benchmarking, an increasingly important focus area for pharma. Here, we focus on the top 10%* of respondents and benchmark them against the European average.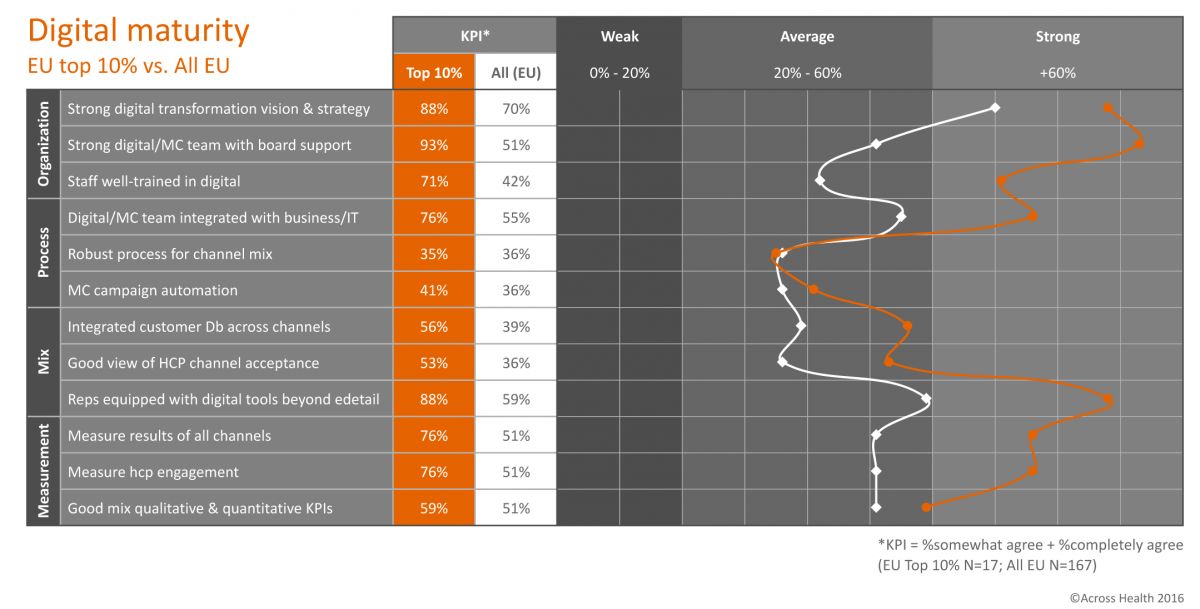 The results of the survey clearly show that while the industry as a whole does not really stand out on any of the surveyed digital/Multichannel (MC) characteristics, some companies have evolved considerably by adjusting their structure and by dedicating a greater budget to digital initiatives. This may be the precursor of a shift in physician preference for pharma companies, as some companies move beyond the industry-wide status-quo and start attracting customers to their online offerings.
Industry leader characteristics
As Fig. 2 demonstrates, most industry leaders have managed to establish a solid digital vision and strategy by creating a strong digital/MC team, backed by higher level management support. This is evidently reflected in the significant increase of their digital/MC budget (dedicating on average 22% of their marketing budget to digital activities).

Industry leaders (top 10%) score higher on almost every aspect of digital maturity. They have managed to equip their reps with digital tools and transform their traditional Face-to-Face sales activities to multichannel ones, utilising closed-loop marketing.
However, even the best-in-class are still struggling with the design and implementation of their channel mix and automation of their MC campaign execution. And, as Fig. 3 depicts, even the top 10% lacks knowledge about HCPs preferences, wants and needs. So, there is still a lot to be done in terms of gathering information and forming insight about HCPs in order to have an effective interaction using the most impactful and relevant channels across the customer journey.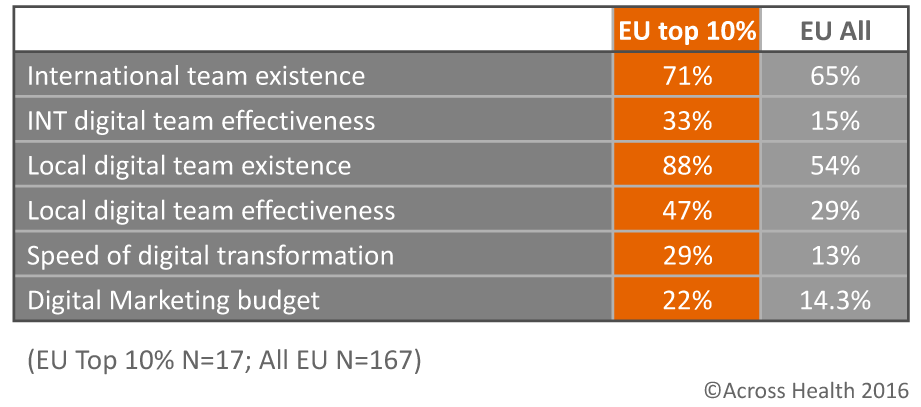 Almost 30% believes that regulatory/ compliance issues are the biggest hurdle for digital initiatives. The top 10% group scores even higher here – possibly implying they try to push the boundaries a bit more. Lack of internal knowledge comes in second.
Interestingly, the leader group also recognises the need for an external expert agency (3rd biggest bottleneck), illustrating that it takes more than the "shiny object" tactic-heavy approach preached by most agencies.
Conclusion
This analysis reveals that some companies are racing ahead and start raising the expectation levels of their customers by differentiating themselves from the middle-of-the-road digital offerings offered by most. As most physicians are not satisfied with the current pharma offerings and "more digital leads to higher satisfaction" (see previous blog posts – Navigator findings), this offers a clear opportunity to improve customer experience and hence preference…and may lead the "wait & see" group to speed up their efforts quickly to catch up.
The Gordian knot that remains for even the leaders is channel mix optimization. Finding an expert consultancy/agency to help disentangling (or even cutting) the knot has proven to be a difficult journey, they admit. We firmly believe that our Navigator and strategy frameworks should help leaders & others to take the next step on their omnichannel journey. And if you want to find out first where your company is vs the average or leaders, feel free to reach out to Fadi Baddur to discuss an internal & industry benchmark study.
Best regards,
Fonny Schenck,
CEO Across Health
Sahar Attaripour,
Consultant Across Health
---
Previous
Next