---
Since 2008, Across Health has systematically collected data on HCP channel usage for over 50 offline and digital channels - across many markets and therapy areas. The datasets from 2011 onwards have been entered in a unique channel database. To illustrate the robustness of the database: in 2013-15, Across Health collected channel data for over 6640 HCPs. Key metrics cover 'Reach' – the extent to which channels are commonly encountered by HCPs, and 'Impact' – the extent to which channels influence prescribing behavior. Profiling data includes age, gender, digital usage stats, preferences for digital versus offline or mix, digital satisfaction, attitudinal components and many other dimensions.
Our international 2015 Cross-channel Navigator study for GPs/Primary Care has just been closed. When we delve into the data for the US market (n = 103), some interesting findings became clear.
Perhaps most strikingly, 25 years after the launch of the world wide web, only 34% of primary care physicians in the US report being satisfied with the digital content offered by pharma, with fully a third reporting being unsatisfied, and another third neutral.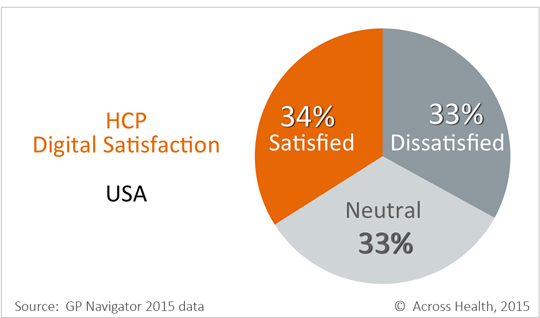 So, what does this mean for you?
The Navigator data also highlights key opportunities for improvement:
1. Add more e-medical to the mix
From a medical education standpoint, there appears to be a quite a digital divide between what pharma offers and what customers are looking for. Indeed, 45.6% of Primary Care physicians report a preference for at least some e-medical, while only 16.8 % report being reached via that channel. This means that pharma is not leveraging digital as much as they should be. Conversely the gap on the promotional side is much smaller in the US, demonstrating better allocations in promotional spend.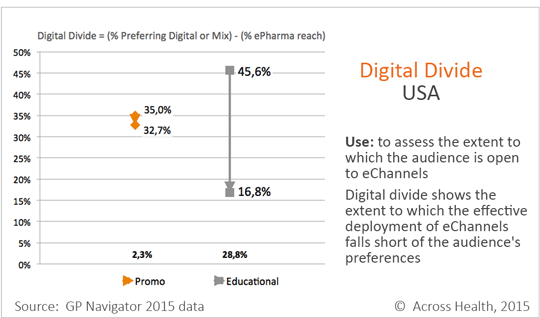 2. The time for Mobile is NOW
Given that 90% of Primary Care physicians in our study stated owning a smartphone for use at work, this is clearly an area that pharma should further investigate: are your offerings mobile-optimized? What kind of mobile services can you offer to your physicians – or to their patients?
3. Focus on high-impact channels
When we dig a little deeper as to what channels report the greatest impact, we see that vDetailing and teledetailing, for instance, provide greater impact than the gold standard of a rep visit…while their relative reach levels were reported as much lower than the rep – this indicates an opportunity to invest more on these channels in the overall mix.
4. Fish where the fish are
Pharma has traditionally focused on developing its own channels, digital and otherwise, most other industries have realized the impact of third-party channels much sooner. Indeed, HCPs tend to visit third-party portals and online medical journals much more often than pharma's digital properties. In addition, the perceived impact of these channels is much higher – creating a double whammy for pharma marketers.
5. Know your customers
The so-called "relationship seekers" are significantly and consistently more open to pharma digital offerings than "transactionals". And demographics like age & gender play a role too…by segmenting your customers along these lines, you will increase engagement & impact, while reducing cost.
Our GP Navigator data set further breaks down which pharma companies are ranked the highest as it relates to digital initiatives, with AstraZeneca seen as the clear leader among their peers overall…but in terms of efficiency, Lilly, Pfizer and a few other companies are more advanced in complementing their offline approach with digital. Also, when we dig deeper into therapeutic categories, rankings unsurprisingly vary. For example, Eli Lilly is perceived the leader in digital initiatives within the diabetes category.
We are convinced that if pharma improved both the quality of digital initiatives and reinvested in digital channels that provide greater engagement and impact, greater success in their overall MCM campaigns could be found. Leveraging the full data set within the Navigator workbench can help guide those investments.
If you would like to learn more about our global Navigator offering, please contact us.
---
Previous
Next