---
Since 2008, Across Health has systematically collected channel data from HCPs on over 50 offline and digital channels - across many markets and therapy areas. The datasets from 2011 onwards have been entered in a unique channel database. To illustrate the robustness of the database: in 2013-14, Across Health collected channel data from nearly 5000 HCPs. Key metrics cover 'Reach' – the extent to which channels are commonly encountered by HCPs, and 'Impact' – the extent to which channels influence clinical decision making; profiling data include demographic and attitudinal dimensions.
While the digital age has been upon us for some time, pharmaceutical companies still struggle with their digital offerings towards HCPs. Wide-spread thinking throughout the industry often attributes this to the 'traditional' mindset of HCPs: they are thought to prefer (single-channel) offline F2F contact with a sales rep above all other channels.
For this article, we delved into our database to uncover the actual reach and impact of digital channels among HCPs, across therapeutic areas and specialties within EU5. The key metric in our analysis is the digital divide, which we defined as the delta between a) the percentage of HCPs preferring digital channels or a multi-channel mix, b) the percentage of HCPs actually reached by pharma's digital offerings.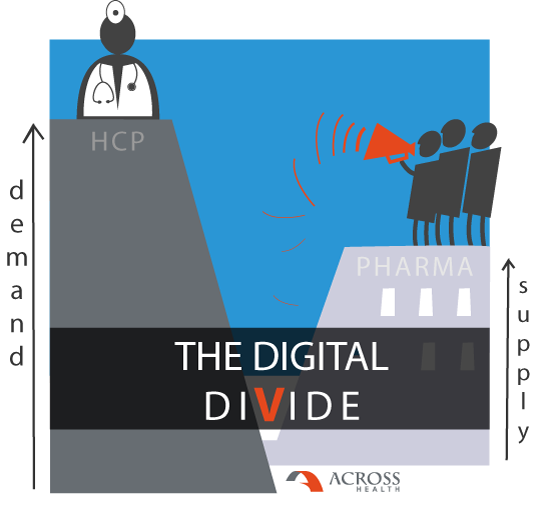 While there are major differences between countries, and between promotional versus educational channels, the overall finding is clear: pharma's digital offerings do not cover the digital needs of HCPs. Hence, both HCPs and industry would benefit from shifting more of their sales and marketing over to digital and multi-channel initiatives. For medical education, the digital divide is even deeper. Let's take a closer look at our data.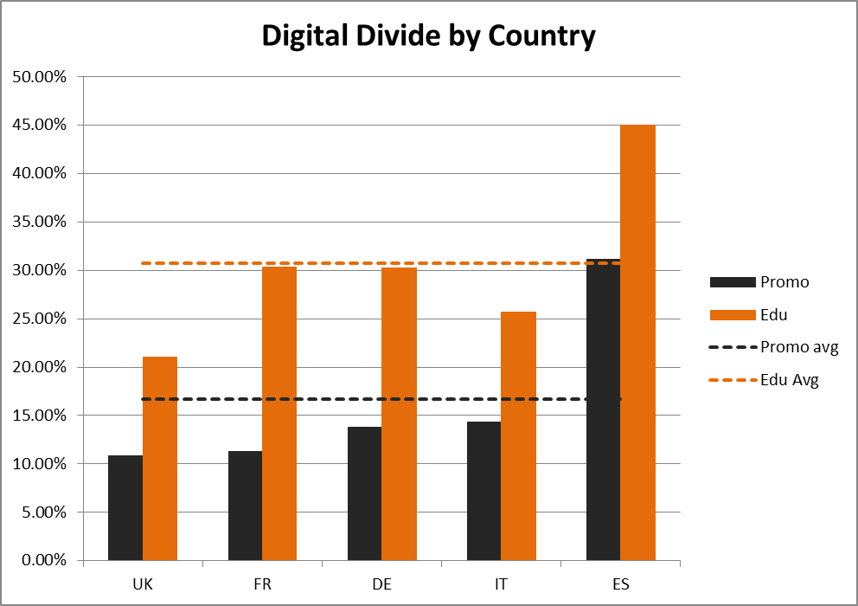 The average digital divide for promotional initiatives is 17% - meaning that there is still a huge potential overall.
The digital needs are very high within EU5. Close to 50% of HCPs actually prefer digital or multi-channel over the traditional approach. Due to the many trepidations within pharma in rolling out digital initiatives at a sufficient scope this leads e.g. in the UK to a digital divide of 26%.
Pharma often takes an even more traditional approach when it comes to medical education initiatives, favoring expensive offline symposia over digital channels or a multi-channel mix. However, HCPs express a clear interest in online medical services, averaging 50%....And with international events becoming increasingly subject to sponsoring restrictions, the emedical space is geared for a fast ramp-up.
This culminates in an average digital emedical divide of 31% across EU5, with spikes up to 45% in Spain.
We hope these results are seen as a wake-up call for pharma to invest more in digital and multi-channel marketing & medical initiatives. HCPs are ready now – and will become even more ready as the digital native segment starts to grow and pharma starts to offer truly value-added digital services; now it's up to the pharmaceutical industry to grab their attention using the right channel mix.
If you would like to learn more about our Navigator database please contact us. Check out the Across Health methodology to learn more on how we can help you develop, implement and analyze multi-channel initiatives. Or contact your local Across Health office directly.