---
It's been a long time coming, but there are signs that digital transformation in pharma is speeding up. Companies are establishing clearer digital visions and these are being supported with bigger budgets (up 13% in 2018). In the process, internal satisfaction levels are (slowly) improving. In principle, this is positive news… but there is definitely space for acceleration. While the value of Amazon et al. has exploded thanks to agile methodologies and bold scaling, pharma's digital evolution is decidedly pedestrian.
Please check our video Digital transformation in pharma
For all industries, transformation requires marrying the right strategy, culture and people with the right enablers (processes, technologies, metrics,...), as per the eponymous Gleicher model (see table). All of this needs to be underpinned by a strong rationale for change ("burning platform"), that's both compelling and understood by all inside the organisation. Sadly, this isn't as easy as just buying and installing some great new technology...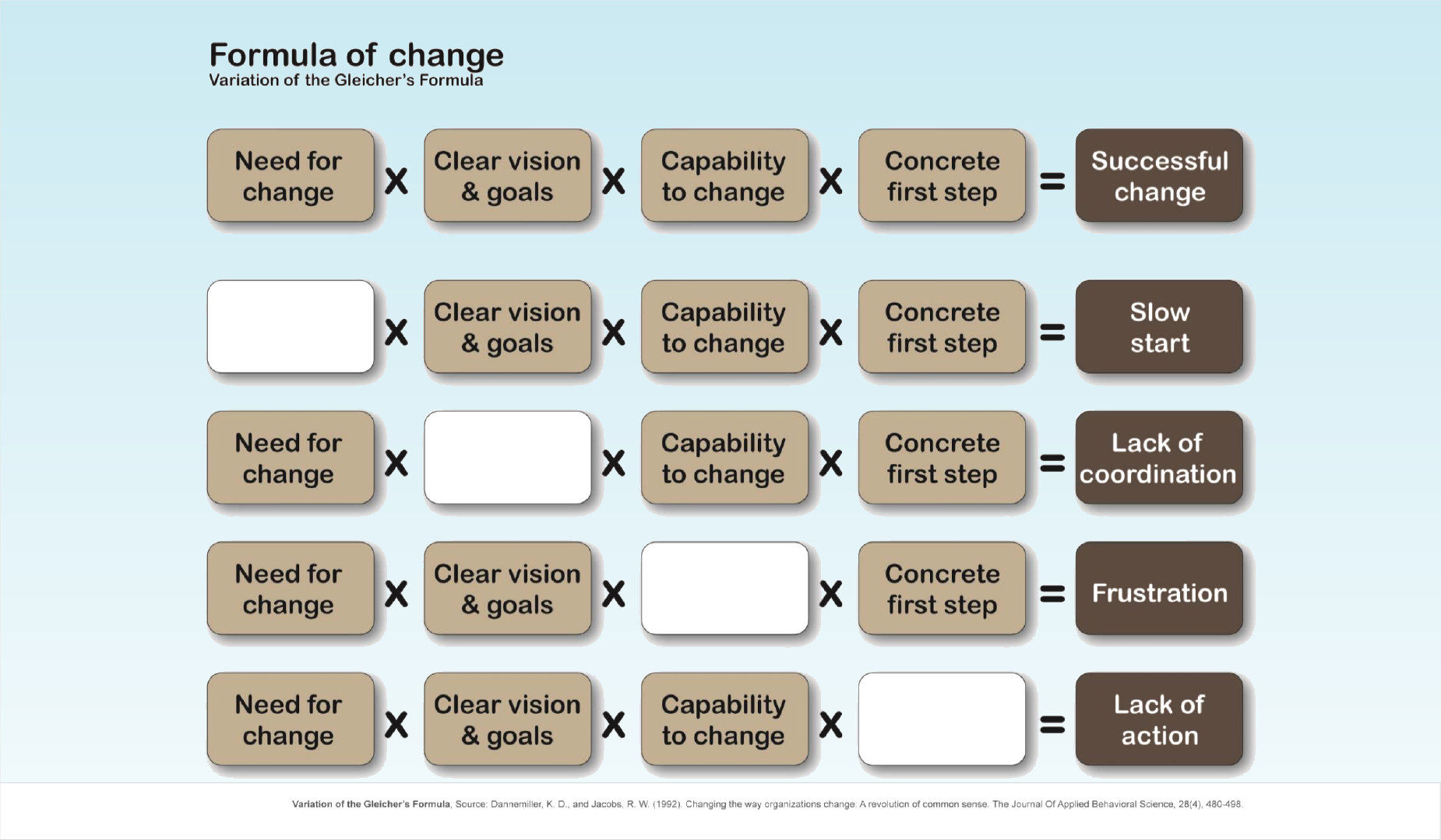 The slow pace of change is more than anecdotal. Our 2018 Maturometer reveals that at least 50% finds digital transformation in their organization to be (very) slow.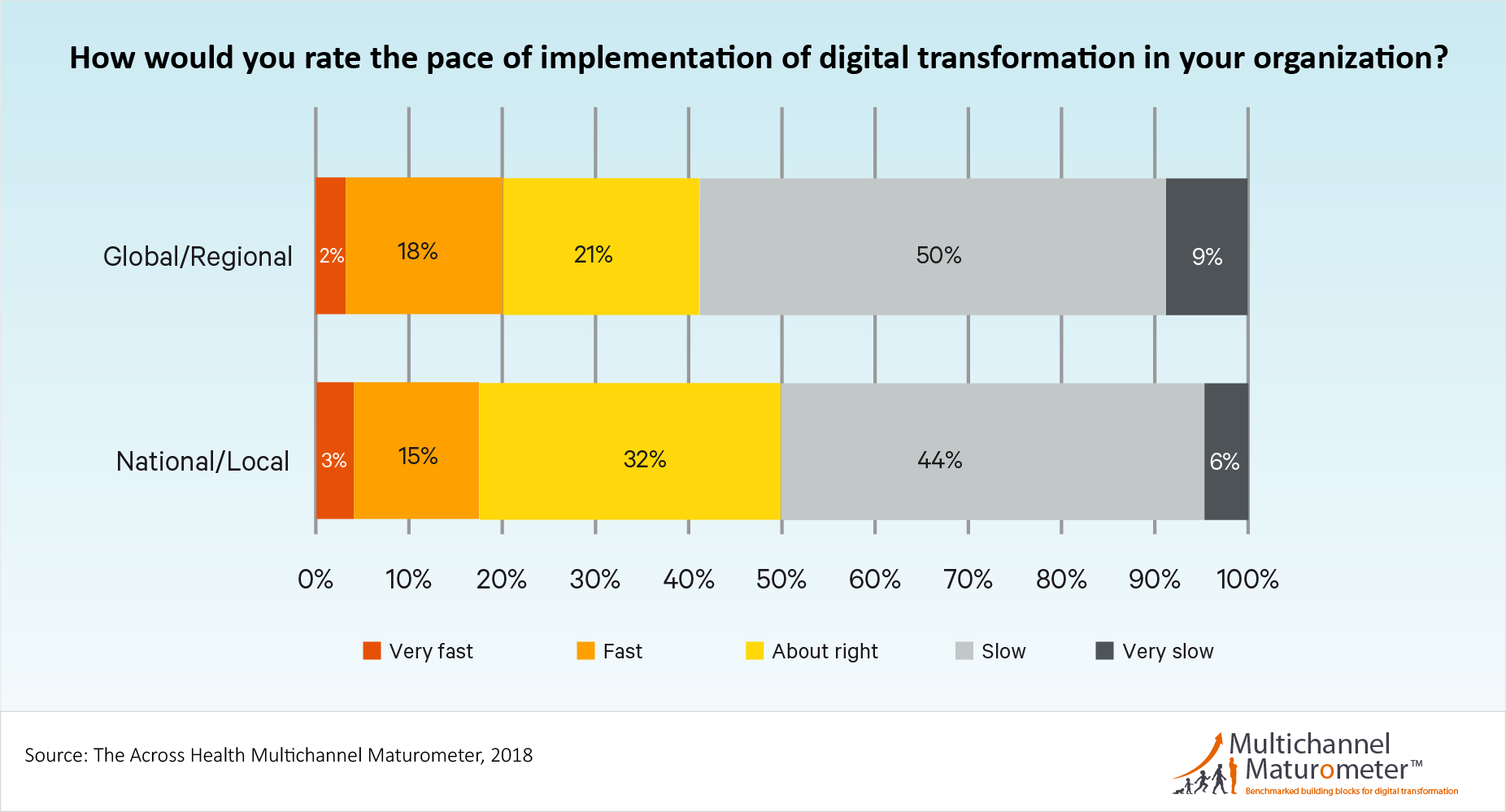 To get a better view where things are, we compared the 2016 Maturometer with the 2018 results regarding the key dimensions of digital transformation. The key messages are:
For all enablers combined, the average score of "fully in place" is only 17%.
The average change vs 2016 is only 5%.
The items in the top-right box are the highest-growth and highest-implementation areas, with about 30% saying they have digital teams, a solid strategy and multichannel-enabled reps.
The items in the bottom-left corner are where it really hurts (low levels of adoption & minimal evolution vs 2016): lack of knowledge, lack of customer channel affinity, lack of KPIs and measurement, limited efforts in the key space of marketing automation, and, to sum it up... no robust methodology for channel mix planning.
What does this mean for pharma? Many feel they cannot continue inching forward while their tech counterparts are making huge strides. However, progress is not just about copying ideas from the digital leaders – many of these wouldn't work in pharma anyways.
Chasing after shiny new (digital) objects may help pharma companies appear to be sprinting, hare-like, ahead. But that's not what's going to lead to sustained results, as other industries confirm. Instead, a concerted, multi-year effort across all four Gleicher areas will increase the likelihood of a successful digital transformation significantly. And yes, the fourth domain ('concrete first steps') should certainly sustain the oh so important internal momentum – but only if it is not confused with "pilotitis" or "tactics looking for a strategy" … while this method doesn't promise game-changing sprints overnight, it also doesn't come with the risk of exhaustion and digital burn-out. In this way, pharma has a good chance of ultimately winning the race. But beware: "Only one thing is ever guaranteed, that is that you will definitely not achieve the goal if you don't take the shot." (W. Gretzky)
For more details, see the presentation here
Further reading:
Across Health helps companies develop transformation strategies and prioritise the key actions to support their implementation and measurement. For more information, please contact us.