---
Since 2008, Across Health has systematically collected data on HCP channel usage for over 50 offline and digital channels - across many markets and therapy areas. The datasets from 2011 onwards have been entered in a unique channel database. To illustrate the robustness of the database: in 2013-15, Across Health collected channel data for 7000 HCPs. Key metrics cover 'Reach' – the extent to which channels are commonly encountered by HCPs, and 'Impact' – the extent to which channels influence prescribing behavior. Profiling data includes age, gender, digital usage stats, preferences for digital versus offline or mix, digital satisfaction, attitudinal components and many other dimensions.
In Q2 2015, we released our Cross-channel Navigator 2.0 for GPs (15 markets including EU5, US, AsiaPac, Latam; 1537 respondents). For this article, we had a look at a new parameter: the extent to which doctors declare themselves satisfied with digital offerings from the pharmaceutical industry. We specifically looked at EU5 general practitioners (n = 524).
A key observation is that the percentage of 'satisfied' GPs increases in markets with a relatively high average digital reach (chart 1). However, this correlation is not strictly linear: there seems to be a threshold above which the correlation becomes more clear (if a market's average digital reach is below 25%, then digital satisfaction is bound to be low and in the 10-25% range; however, once this threshold is passed, digital satisfaction veers up to the 40% range). One can also readily see that the increase in the percentage of satisfied GPs leads to a similar decrease in the percentage of dissatisfied GPs - the percentage of neutral GPs remains markedly stable, and is still an important group to engage and win over for leaders in this space.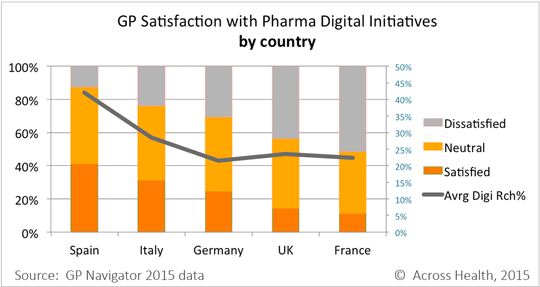 We also found a correlation between GP 'pharma-friendliness' and satisfaction. Using McKinsey's Archetype segmentation, we found that the two pharma-friendly archetypes (relationship seeker and knowledge seeker) use pharma digital channels more often – and also express a high degree of digital satisfaction (chart 2).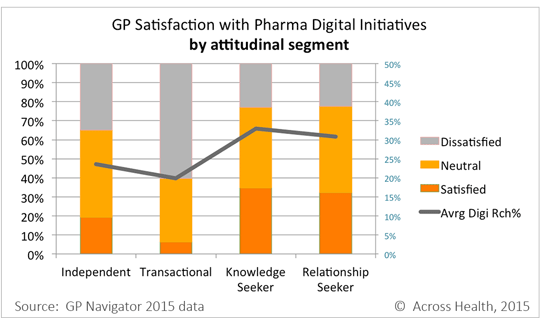 Does this mean that the two other archetypes are less open to digital communication by pharma – or is pharma simply not extending its digital offerings to these groups? The answer cannot be derived from our dataset but is an interesting area of further research. Yet as the reach of eg third party websites in these archetypes is just shy of 50%, there is clear upside potential for digital.
Conclusion
There is a clear link between the degree to which EU5 GPs are exposed to pharma's digital offerings, and the degree to which these doctors declare themselves satisfied with this offering. In addition, pharma-friendly physicians are more open to pharma's digital services. Nevertheless, the level of dissatisfaction remains high (32%)– and more than 40% of EU5 GPs is still undecided… that massive 75% of HCPs clearly offers a unique opportunity for companies with customer engagement and digital transformation at the heart of their business…
Note: for more information on our Navigator and our channel database, please contact us.