---
The concept of the multichannel rep has quickly gained traction in pharma. In the past years, two new flavours of the 'classic' face-to-face rep visits have emerged: 1) rep-triggered email and 2) teledetailing (or remote detailing), where a rep shares his screen to have a live conversation with an HCP. Both channels can increase frequency and should be able to increase reach beyond visited HCPs. But…is this promise actually being fulfilled? Or is it still mainly a concept found on slideware?
We looked at the preferences of 1654 specialists in the EU5 (2016-17 Navigator data), and noted the following trends:
'Classical' (f2f) detailing still prevails, with an overall reach of 66% (with an EU5 low of 48% in the UK, and a high of 80% in Spain)
21% of HCPs are not receiving pharma reps, rep email or remote detailing (15% in Spain; 42% in UK)
Rep eMail has a reach of 43% through the EU5 (51% in Spain; 36% in Italy)
Remote detailing clocks in at 12% reach (highest reach in Spain [17%]; lowest in Germany)
When we try to compose "the full picture", it is clear that the MCM rep is still in the early days: only 6% of EU5 specialists are served in a truly multichannel way (ie rep+email+remote)… while one out of 3 physicians (and 50% of all visited physicians) still only sees reps.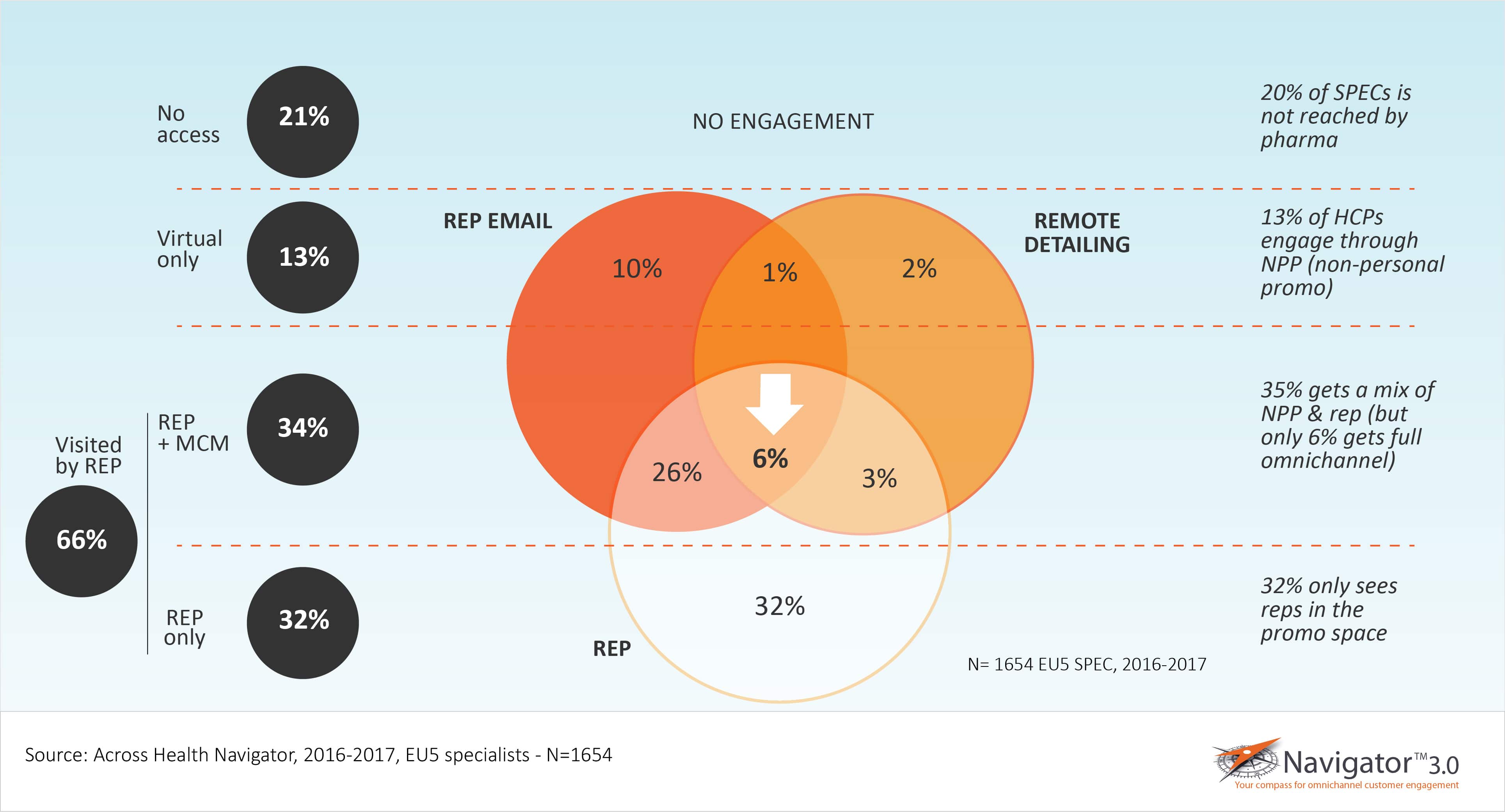 Interestingly too, the picture does confirm that multichannel can extend the reach (significantly, ie by 20%): 13% of specialists do NOT see any reps but get pharma information through multichannel. The other question is whether the 21% who do not get any pharma communications today would be open to digital engagement…. arguably at least a subgroup would be willing to engage in this way.
What are the key takeaways?
With access decreasing, the digitization of HCPs becoming "the new normal", and the "multichannel rep" concept gaining momentum, one would expect these newer forms of promotion to have gained solid support. However, only 6% of the HCPs are exposed to all 3 channels, and 34% to just 2. At the same time, these channels reach a substantial 13% of the no-see HCPs (ie, extending the rep reach by 20%). That there is 21% "white space" (HCPs receiving no pharma digital communication at all) is an intriguing observation too.
The above findings confirm that the multichannel rep concept still has a long way to go. The relatively higher reach in more advanced markets confirms that the potential is much higher than what we are currently seeing. And our experience confirms that these channels can indeed be very effective when combined with the right kind of change management. Elements like right content, right context, right customer and right frequency of course also play an important role. One of the major risks is that low-threshold channels like rep-triggered email would be used indiscriminately, possibly resulting in HCPs blocking the channel entirely.
To address these and other key dimensions of omnichannel customer engagement, we have recently launched our flagship Navigator 3.0, which covers not only "right channel", but also "right content", "right context", and "right frequency", as well as extensive benchmarking (overall and by key channel) and a unique view on "right 3d party destinations" (websites, newsletters, apps, congresses, communities,…).
Since 2008, Across Health has systematically collected data on HCP channel usage for over 50 offline and digital channels. Our Navigator database now contains over 20,000 HCP surveys. For this article, we have consolidated recent results of 1654 specialists from EU5 (results from 2016-17). Also available is a Navigator for Payers and Patients.
For more details, see the presentation here
Further reading:
Would you like to get more information? Please contact us.
---
Previous
Next