---
In 2013, Across Health collected channel data for over 2600 HCPs, distributed over a number of specialties and geographies (mainly EU). Key metrics cover 'Reach' – the extent to which channels are commonly encountered by HCPs, and 'Impact' – the extent to which channels influence prescribing behavior. All results are consolidated in a searchable database.
We used this dataset to examine the UK communication landscape, specifically with regard to the impact of a number of 'Old Normal' and 'New Normal' channels vis-à-vis the impact of the rep.
The UK is a market with severe rep access limitations; our data clearly confirm this. While the Navigator database reports an average rep reach of 70% across 14 EU GP markets, the UK scores lowest (49%). Furthermore, rep impact is similar in both GP and specialist markets in the UK, so we can use the rep equivalent metric as a baseline in both segments. However, non-rep channels are systematically more impactful in a specialist environment. See chart below (only a subset of the 50+ standard channels has been taken into account):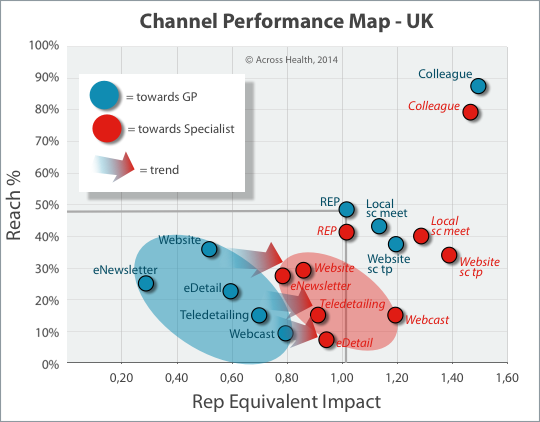 Some more detailed findings include:
• In terms of reach, pharma channels are low overall, not just the rep, but also (e)marketing and (e)medical…colleagues are the dominant reach channel, opening opportunities for peer-to-peer based efforts.
• In terms of impact, (e)medical channels (scientific meetings, scientific third-party websites) have a higher impact than the rep – in both GP and specialist markets. The only outlier is webcasts for GPs – confirming our experience that this is more a specialist channel.
• In the GP market, standard eChannels underperform the rep, while in specialist markets, they are almost at par…once again, opening up a lot of opportunities for designing high-impact multichannel offerings.
These key trends illustrate the importance of designing multichannel campaigns based on robust facts and customer insights, rather than running on instinct, past-year budgets or industry practice.
---
Previous
Next