---
In 2013-14, Across Health collected channel data for over 3000 HCPs, distributed over a number of specialties and geographies (mainly EU). Key metrics cover 'Reach' – the extent to which channels are commonly encountered by HCPs, and 'Impact' – the extent to which channels influence prescribing behavior; profiling data includes potential, age, gender, attitudinal components and many other dimensions. All results are consolidated in a searchable database.
Our research covers the patient when analyzing the impact of channels and stakeholders on prescribing behavior. Typically, the patient scores in the middle range: less impactful than a colleague or a medical journal, but more impactful than e.g. mass promo channels.
For this blog article, we examined whether some doctors are more prone to have their prescribing behavior influenced by their patients than others. The results are summarized in the table below. On average, the patient scores 5.57 on a '0 to 10' impact scale, which is, as said, modest to average.
It seems that doctor demographics hardly influence the impact of the patient: we do not see any variation across doctor gender and age. The doctors' attitudinal Archetype (his/her professional 'personality') doesn't seem to play a role either. Neither does practice size. Some trends that did become apparent: a trend towards less patient impact among junior doctors; specialists are somewhat more impacted by their patients than GPs; cultural differences seem to exist across countries ...
We then looked at digital usage statistics, as one could fear that doctors who invest a lot of their time in looking at PCs, laptops and smartphones, would pay less attention to the person of flesh and blood who is their patient. But the opposite proved true: doctors who use iPads or Smartphones are more prone to be impacted by their patients, as are doctors with a high level of internet usage. This trend may be discreet, but it is consistent (please see table at the bottom).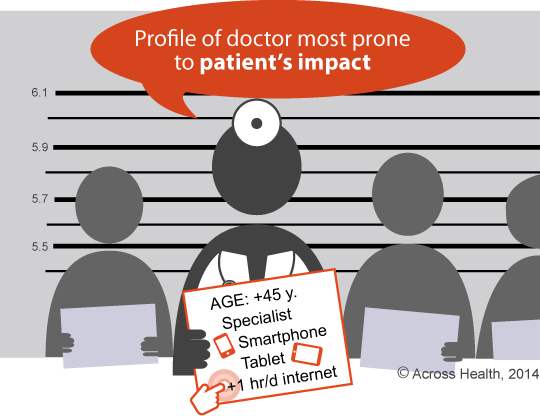 Finally, we looked at oncology, an area where the interaction between patient and physician is closer than in many other general (or technical) specialties. We were able to do so because our oncology panel (n = 357) includes the data from our latest oncology Navigator. The overall patient impact is markedly higher in oncology, at an average of 6.33; at the same time the trend towards higher patient impact among digitally active doctors persists, and is even clearer (except for smartphone usage).
Therefore: wired doctors do listen to their patients! As to the underlying reasons: perhaps these wired doctors are true believers in the value of the internet for themselves, and may therefore also be more receptive to empowered patients (whose requests are more often than not based on internet searches).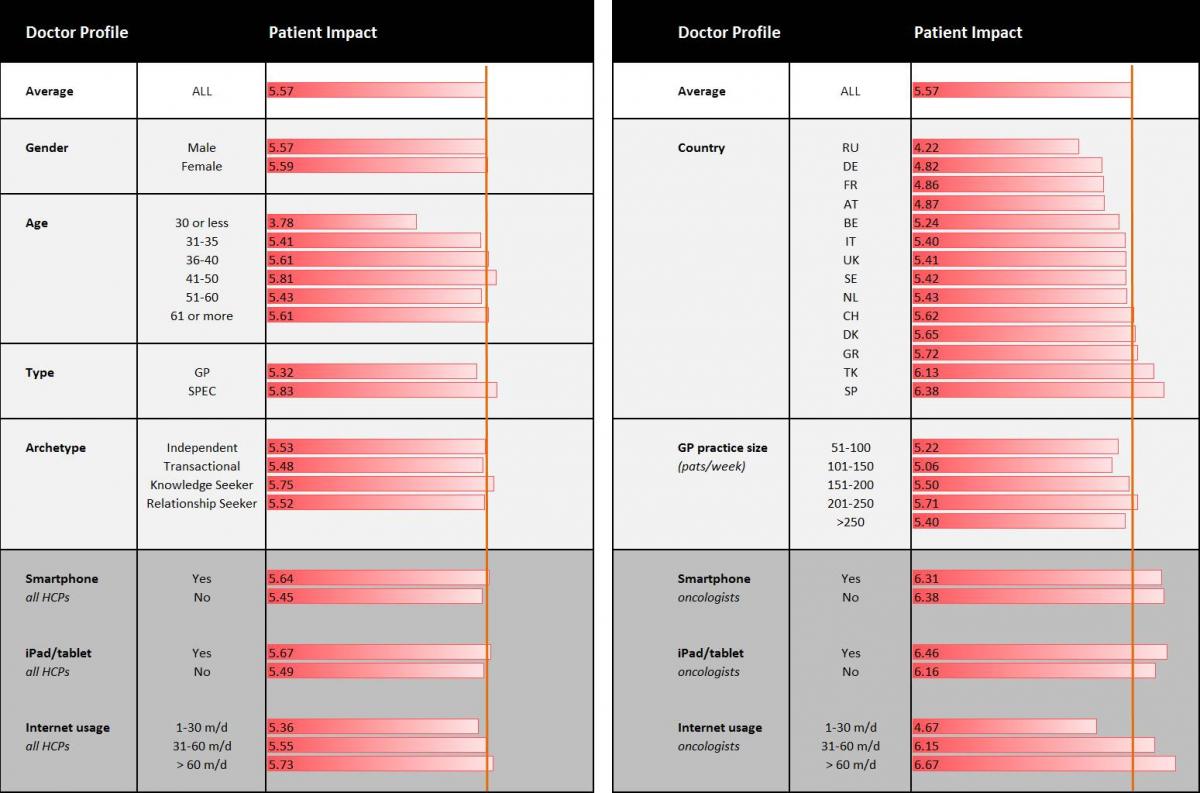 Note: for more information on Navigator and our channel database, please contact us.
---
Previous
Next