---
With the most recent Maturometer results of 2016 we see overall a replication of the past = status quo of digital maturity in pharma. This is concerning...
Highlights
Little Improvement: Out of the 12 key maturity drivers measured, 8 of them have not increased compared to 2015.
Lagging Areas: The key areas lagging in maturity are: #1: Having staff well-trained in digital; #2: Having a robust process for channel mix; #3: Having multichannel campaign automation; and #4: Having a good view of the HCP channel acceptance.
Budgets Static by Nature: Digital marketing budgets remain flat (16% of marketing spend), which is a trend seen for the last 4 years.
Pain Points: Regulatory, legal and compliance issues remain the top bottlenecks followed by the lack of internal knowledge and clear multichannel strategy.
Quick Overview
With the most recent Maturometer results of 2016 (click here for the recorded webinar) we see overall a replication of the past = status quo of digital maturity in pharma. This is concerning since we know from the global results of the Across Health Navigator* that on average for promotional channels 9,5% of GPs prefer Digital channels only while 38,4% prefer a mix of F2F and Digital. That means that 48% of GPs have a preference for Digital in the mix and this is only expected to increase.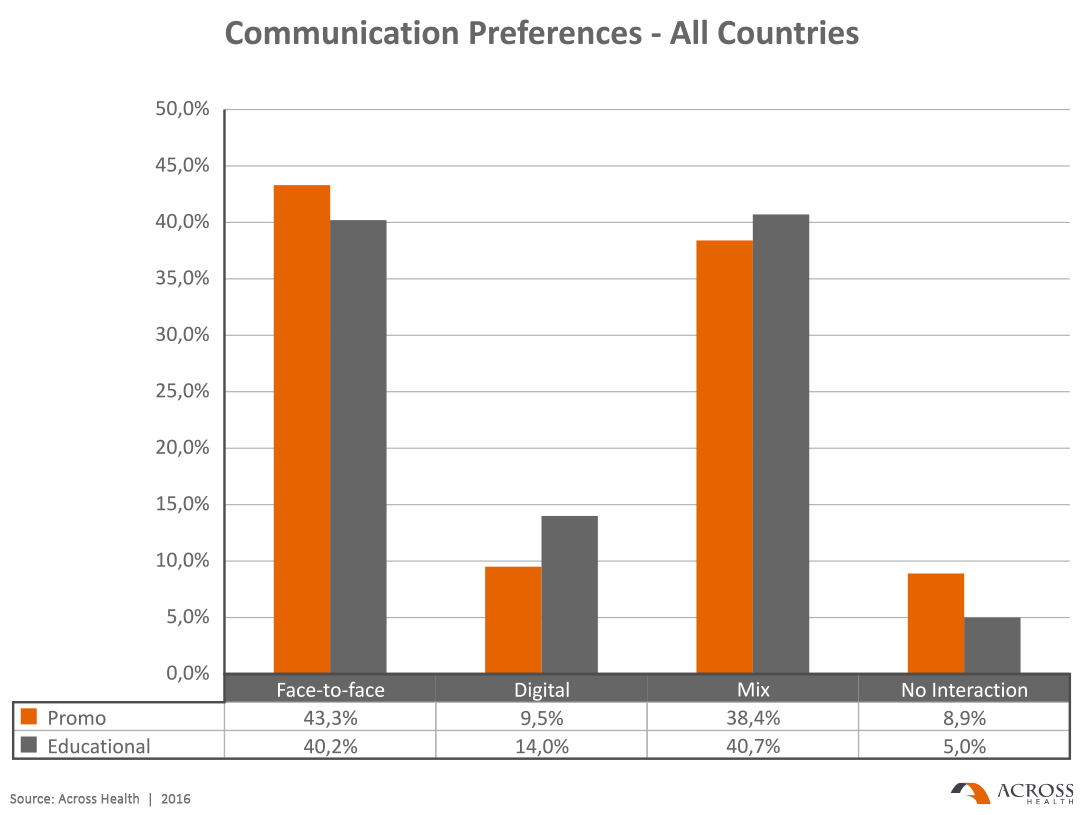 So the pressure to accelerate the transformation towards digital capability building in order to meet customer expectations is as great as ever. And to make this happen spending on Digital is going to have to increase to that of other industries and get closer to the spend levels of pharma digital leaders (pharma digital leaders spending is at 25% of marketing spend, while pharma in total remains at 16%).
---
The Channel Gap in HCP Impact vs. Pharma Usage
Another interesting insight comes from comparing the Top 10 most impactful channels of HCPs coming from the Across Health Navigator with the reported Pharma Usage coming from the Maturometer. What can be seen is that Patient adherence tools, e-MSL's and Virtual eDetailing appear in the Top 10 of most impactful channels to customers, while the average Pharma Usage of these three channels is only 14%! Why could this be happening?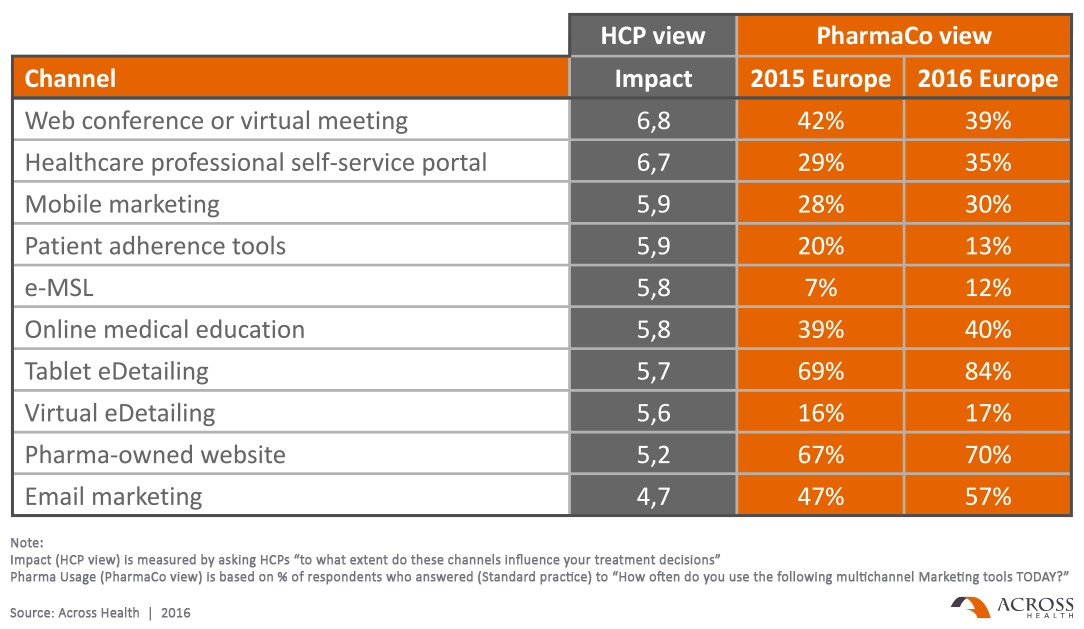 Patient adherence tools, though been around awhile, have likely not yet been fully integrated into full-blown patient support programs/patient services which take into account patient behavioral profiling and support the patient along their whole journey.
e-MSL's enable direct communication with MSLs by the customer via telephone and online presentations. Though highly impactful, and done efficient and with higher frequency than F2F, likely traditional 1-1 meetings in the medical sphere remain the norm and medical affairs departments are lagging behind that of commercial departments, when it comes to usage of new digital channels.
Virtual eDetailing is defined as self-guided eDetailing and shows very limited usage. More than just a mere website with product info, it should engage the customer in an immersive and interactive user experience. These experiences should be thematic and high-value content focused and not only "product brochures online."
---
Positive Signs of Life
However, there are also positive elements in the outcomes. Firstly, 60% now agree they have strong digital and multichannel teams, an increase of 6%. Secondly, there is an 7% increase leading to 63% of companies that agree they have digital and multichannel teams integrated with business and IT. Thirdly, 50% of companies now agree they have an integrated customer databased across all channels, an increase of 14% since 2015. These are three critical drivers to achieving digital maturity and this positive trend shows promise. Though even with these drivers, there is lots of opportunity for growth.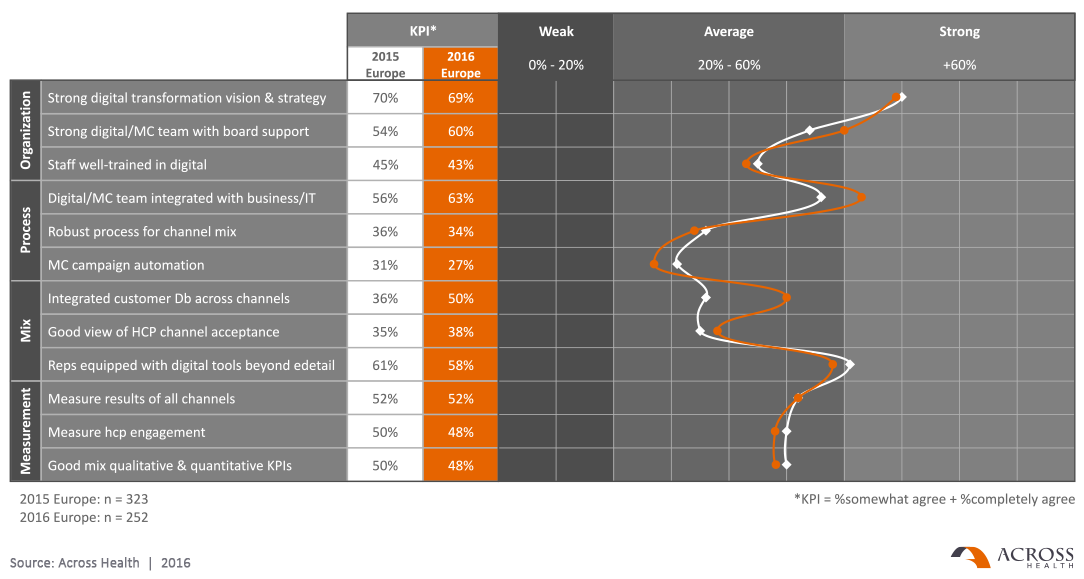 ---
There's More than Spend
Although the existence of international teams has increased to 83%, their effectiveness remains extremely low only reaching 16%. And the speed of digital transformation has also only marginally increased since 2015 - only reaching 15% of agreement. So it appears time for a big wake-up call-to-action to senior management to both increase international capabilities and prove their value on the ground, while at the same time set the mandate for immediate and sustained action. See our previous blog "Digital maturity: deep divide between senior vs operational staff" which shows senior staff more negative than the manager group regarding the more operational levels of MCM. Action should result in visible and clear wins on the ground with customers, as the risk for disruption in the near future is higher than ever.

---
Conclusion
There are clearly some positive signs, yet the customer expectation on digital and MCM is much higher than what pharma is delivering today. Those that embrace the new normal and are prepared for the coming disruptions in the industry, will gain a robust competitive advantage. The call to action is clear, yet the challenges remain to change the ways of thinking and working and broaden the historical focus beyond the sales reps as the primary channel and fully embrace the realities of today's connected world.
For more info see:
---
Previous
Next